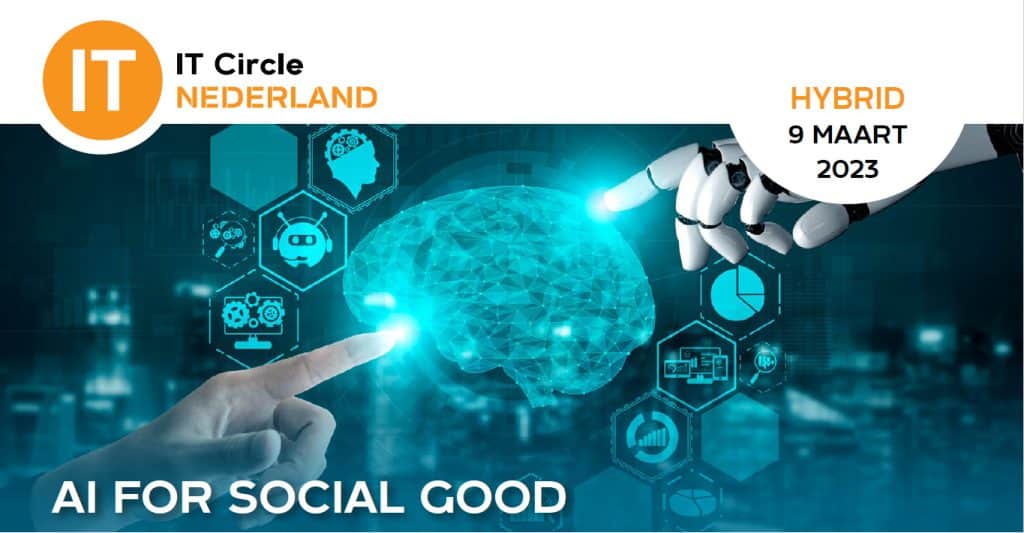 To rethink our ways of working, more cross sector collaboration.
Are you the data manager, data scientist, thought leader, AI specialist, SDG responsible within your organization? Do you want to know more how we can make use of Artificial
Intelligence for social good? Do you need more information on how to switch from economic thinking to ecological thinking? During this hybrid session we bring thought leaders to the table to discuss how Artificial Intelligence can be one of the leading solutions to contribute to the Sustainable Development Goal challenges. We share knowledge about different data science activities, we create awareness about the impact of data science on the SDG challenges. But we are humble enough to acknowledge that there are numerous bottlenecks which we will also try to highlight during this session.
We challenge the participants and the audience on questions like: 'We acknowledge the SDGs, we see the different solutions to realize those SDGs, what appeals to us, what are the correct examples, both international and local? What works and what doesn't? How can we organize those connections? What could be improved? Don't miss this and be part of this interactive session!
With participation from:
Julia Krauwer: Sector Banker Technology, Media & Telecom @ ABN Amro
Bastiaan Quast: Co-Secretary @ ITU-WHO Focus Group on AI for Health
Parvathi Krishnan: CTO @ Analytics for a better world Buster Franken: CEO of Fruitpunch AI
Renato Calzone: Program Manager Data Science for Social Good @JADS
Anja Overdiek: Lector/Professor Cybersocial Design @Hogeschool Rotterdam / Programma responsible applied AI (RAAIT)
Dennis Vegter: Circular Supply chain network @Utwente
Tjerja Geerts: Strategist Economics & Innovation @Data Value Center (DVC)
Host of this event is Frits Bussemaker, member of IT Circle Nederland and member of the organization of the AI for Good Global Summit.
PROGRAM
13:30 – 14:00 Doors open (virtual doors open 13.55)
14:00 – 14:05 Kick off session
14.05 – 15.00 Different views/pitches on the topic by participants with interaction audience part 1
15:00 – 15:10 Short break
15:10 – 16:10 Different views/pitches on the topic by participants with interaction audience part 2
16:10 – 16:15 Wrap-up
LOCATION
Mariënburg Campus, Sint Janssingel 92,
5211 DA 's-Hertogenbosch or online via Teams
PREPARATION
What is your view on how AI can contribute to SDG's, are we there yet, what can be done?