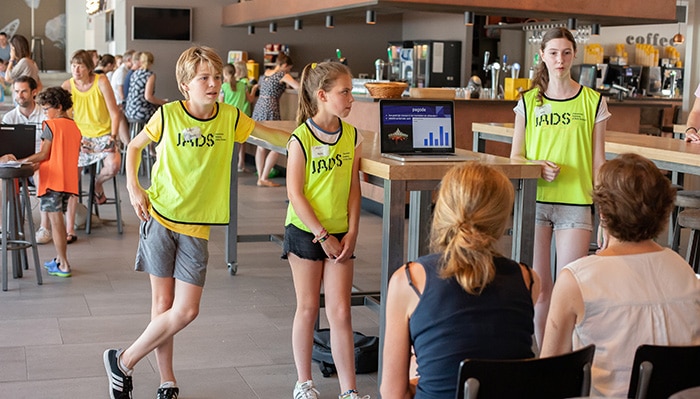 Data Science is hip en niet meer weg te denken uit ons leven. Ben jij de data scientist van de toekomst? Tijdens de JADS Data Science Summer School maken kids van 9 tot 12 jaar op een toegankelijke manier kennis met de wonderbaarlijke mogelijkheden van data science. 
The wonderful world of data science
De mogelijkheden van data science zijn eindeloos! Denk bijvoorbeeld aan het meten van je gezondheid, het oplossen van verkeersfiles, het beter laten groeien van planten, of zelfs het opsporen van boeven: het kan allemaal! Tijdens de JADS Dataweek School 2021 maak je kennis met de mogelijkheden van data science.
Voor wie? 
Jongens en meisjes tussen de 9 en 12 jaar oud.
We bieden de data scientists van de toekomst de mogelijkheid om op een speelse manier kennis te laten maken met data science!
Deelname 
Kosten 
deelname is gratis – met dank aan Dataweek NL
Aantal plekken 
maximaal 25 plekken zijn beschikbaar
Participatie
Aangezien er maar een beperkt aantal plaatsen beschikbaar is, verzoeken wij u (uw kind) pas in te schrijven als de deelname op alle drie de dagen gegarandeerd is.
Bevestiging
Deelname zal tot twee weken op voorhand per e-mail worden bevestigd.
Algemene voorwaarden
​Bij inschrijving moet u akkoord gaan met de Algemene Voorwaarden. Bekijk de algemene voorwaarden hier.
Programma
​
Donderdag 28 oktober | 10h00 – 17h00
Locatie hele dag Groot Tuighuis
10.00-10.30: Registratie & ontvangst
10.30-12.00: Introductie Dataweek & interactieve quiz met ouders
12.00-12.15: Uitzwaaien ouders
12.15-12.45: Lunch
12.45-17.00: Ergoedmiddag
12.45-15.00: Introductie: Wat is Erfgoed en workshop Wat is Digitaal Erfgoed
15.00-16.00: Onderzoek Den Bosch als Vestingstad
16.00-17.00: Pieckepoortgame
17.00: Einde dag 1
Vrijdag 29 oktober| 10h00 – 17h00
Locatie ochtend Groot Tuighuis, ophalen middag bij JADS
10.00-11.05: Op naar het Stadsarchief via een wandeling langs de stadspoorten
11.00-12.00: Bezoek Depot
12.00-12.45: naar JADS en daar lunchen
12.45-15.30: Dataset poortregistraties: aan de slag!
15.30-17.00: Workshop pitchen
17.00: Einde dag 2 (ophalen bij JADS)
Zaterdag 30 oktober | 10h00 – 15h00
Locatie hele dag JADS
10.00-12.00: Presentatie maken + oefenen met studenten van de Koningstheateracademie
12.00-13.00: Lunch
12.45            : Ontvangst ouders
13.00-13.30: Afsluitende presentaties
13.30-14.00: Certificaten uitreiking
14.00: Einde dag 3