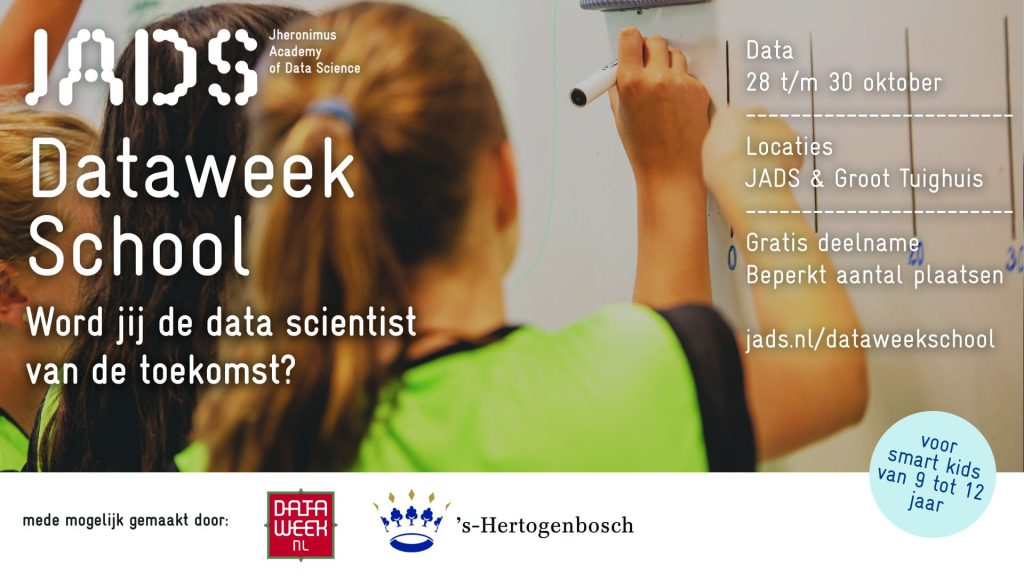 Data Science is hip en niet meer weg te denken uit ons leven. Ben jij de data scientist van de toekomst? Tijdens de JADS Dataweek School maken kids van 9 tot 12 jaar op een toegankelijke manier kennis met de wonderbaarlijke mogelijkheden van data science. 
The wonderful world of data science
De mogelijkheden van data science zijn eindeloos! Denk bijvoorbeeld aan het meten van je gezondheid, het oplossen van verkeersfiles, het beter laten groeien van planten, of zelfs het opsporen van boeven: het kan allemaal! Tijdens de JADS Dataweek School 2021 maak je kennis met de mogelijkheden van data science.
Reis terug in de tijd bij Erfgoed 's-Hertogenbosch
Data science brengt erfgoed tot leven! De Bossche geschiedenis is ineens zoveel meer dan historische bronnen: stap met VR de vestingstad binnen, wandel door de oude stadspoorten en ontdek wie jou allemaal voorgingen. De mogelijkheden zijn eindeloos als we alle digitale data over de stad, haar inwoners en bezoekers met elkaar te verbinden. En daar kan iedereen een rol in spelen!
Interessante verhalen over vroeger liggen voor het oprapen bij Erfgoed 's-Hertogenbosch. Hier maak je kennis met het werk van de archeologen, (bouw)historici en archivarissen.
Voor wie? 
Jongens en meisjes tussen de 9 en 12 jaar oud.
We bieden de data scientists van de toekomst de mogelijkheid om op een speelse manier kennis te laten maken met data science!
Deelname 
Kosten 
deelname is gratis – met dank aan Dataweek NL
Aantal plekken 
maximaal 25 plekken zijn beschikbaar
Participatie
Aangezien er maar een beperkt aantal plaatsen beschikbaar is, verzoeken wij u (uw kind) pas in te schrijven als de deelname op alle drie de dagen gegarandeerd is.
Bevestiging
Deelname zal tot twee weken op voorhand per e-mail worden bevestigd.
Algemene voorwaarden
​Bij inschrijving moet u akkoord gaan met de Algemene Voorwaarden. Bekijk de algemene voorwaarden hier.