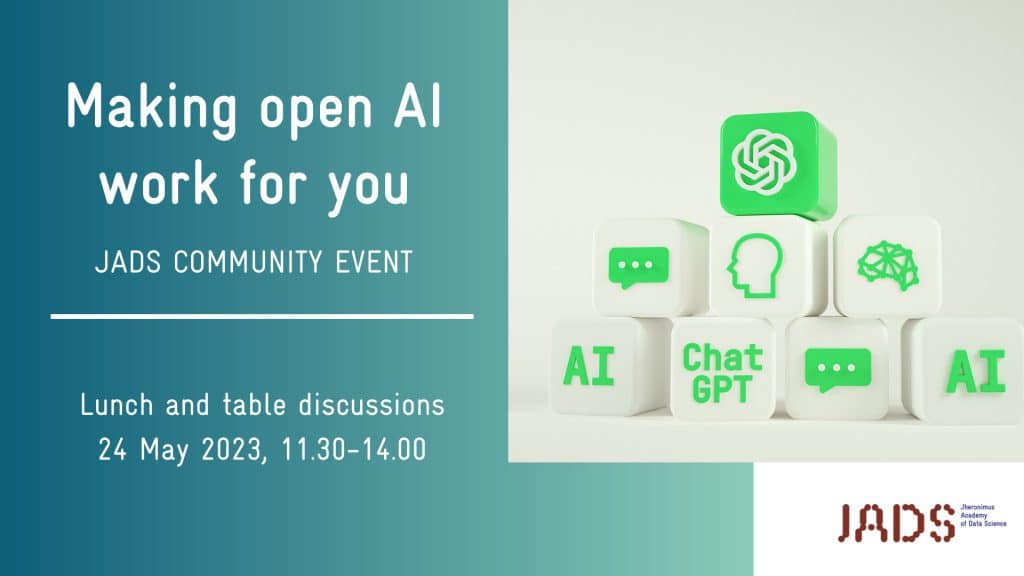 Join us for a fascinating lunch event exploring the world of Open AI!
Led by top scientists and AI experts, this event offers an opportunity to delve into the various aspects of Open AI, from the ethical implications of Open AI to the technical and legal aspects that underpin its development.. Whether you are a tech enthusiast, industry professional or just curious about the latest advancements in AI, this is the perfect chance to engage with the experts and learn about this rapidly developing field. With networking opportunities and a chance to share your thoughts and ideas, this is an event not to be missed. Register now to secure your spot at the Open AI lunch event and discover how this technology is shaping the future. Chairman of the day will be Jos van Hillegersberg, academic director of JADS.
The text above was written by ChatGPT, provided with a very short prompt, which illustrates the sophistication of the Open AI solutions that are already available for the public. All the more reason to join our event!
THIS EVENT IS FULLY BOOKED. If you want to be placed on the waiting list, send an email to events@jads.nl 
Program
11.30 Walk in
11.45 Welcome by Jos van Hillegersberg
12.00 Start Lunch tables
13.00 Closing by Jos van Hillegersberg
13.30 Networking
14.00 End
Discussion Tables
You can join for one of the 4 topics (2 tables per topic) below
New technologies – the tech part: exploring the technology behind for example Open AI (Chat GPT, DALL-E, BING, etc.)

Table hosts: Eric Postma & Emil Rijcken

Ethical challenges of new technologies such as Open AI

Table hosts: Gianluigi Bardelloni (LaRA-lab) & Noëlle Cicilia (Brush AI)

How to use new technologies for your business and/or as an entrepreneur?

Table hosts: Plato Leung & Ikram Rhioui

The flipside of new technologies (Open AI) such as Chat GPT, DALL-E, BING, etc.

Table hosts: Gemma Catolino & Emile Aarts