"Thanks to JADS, I can develop new data models and advise customers better"
Posted on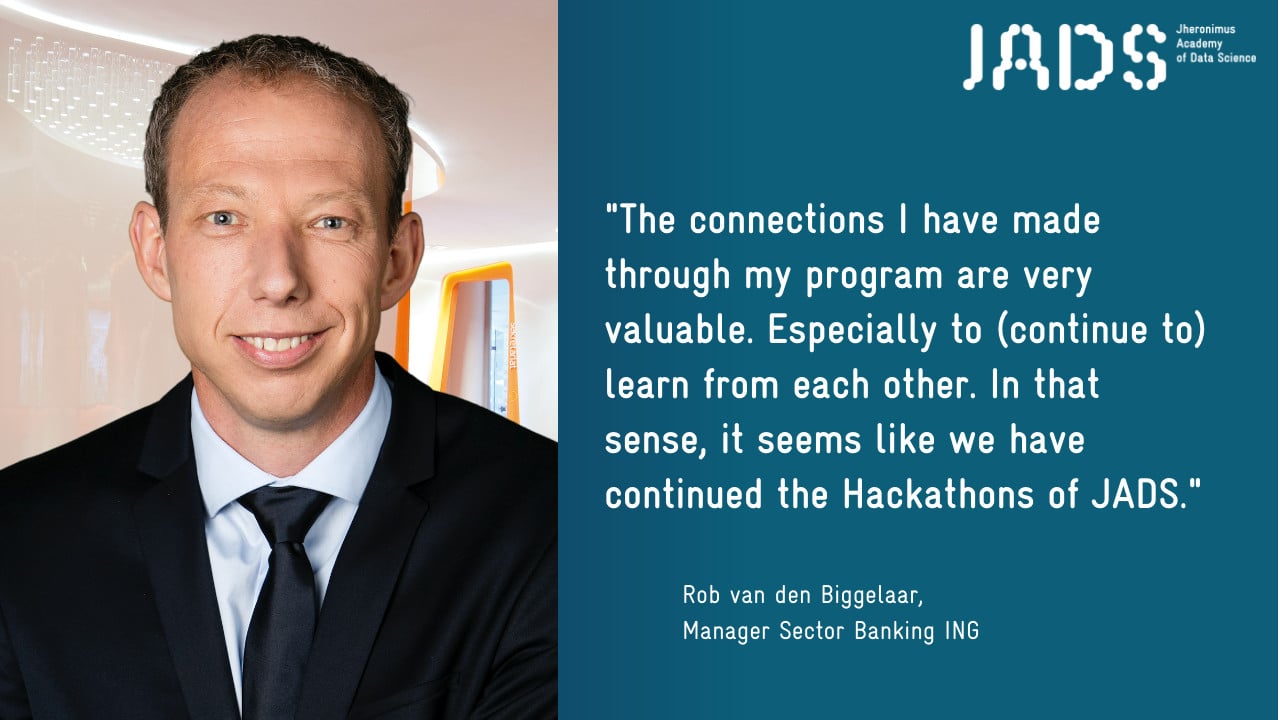 Rob van de Biggelaar is Manager Sector Banking at ING and he followed one of our Data Science for Professionals programs. We spoke to him about his experience and what the program meant for him.
At which department do you work and what do they do at ING?
"I am Manager Sector Banking and we help the bank and its customers to collect data-driven sector knowledge and combine this with sector expert opinions so that on the one hand better decisions can be made by the bank itself, but that we can also better inform our customers about what is happening in the market and their sector.
For example, we advise on the impact of macroeconomic trends for clients, on diversification in portfolios, on changing revenue models or we perform peer-group analyses. Our advisers are therefore well prepared. We provide access to data from, for example, the CBS or the CPB. Or we unlock data from our portfolio development".
Why did you choose JADS?
"ING is a real IT company where a lot of data is available. However, it is not always clear to everyone in all business lines what we can achieve with it for our customers, within the framework of the safe use of non-personalized data. I really wanted to be a frontrunner in the field of data, bridging the gap between IT and the business (business translator). I wanted to understand the technology of the IT people who build data models, and I wanted to understand their questions. This is because the business lines often indicate what they want, but to get this built by the IT people you have to understand each other better."
What has the training at JADS brought you?
"The program has brought me a lot. It is a very broad course that not only trains you on the techniques, but also teaches you what you can do and achieve with data. During the coronapandemic, it has been of great help to me. As an innovative bank, ING makes extensive use of scenario analysis, but is cautious about making hard predictions. And it was such an uncertain time that predictions were desperately needed. Me and my team then started collecting additional data from the market by means of a periodic survey. And we have built new models on that. This allowed us to quickly see which sectors suffered the most during the start of the Corona crisis. We saw very quickly that things were not going well with, for example, the flower sector.
This allowed us to advise our customers better. But it was also interesting for the bank because we were able to establish links between government support, repayment and non-repayment, and thereby avoid extra provisions. This enabled us to save costs, which ultimately also benefits our customers. In retrospect, the corona crisis turned out to be an accelerator for the use of data in decision-making processes. There was suddenly a sense of urgency to have the right data available to support all kinds of new decisions. Even at an agile and innovative bank such as ING, this opens up new possibilities."
What added value did the group projects have for you?
"The group projects especially taught me what it means to really get started with data. That is something different than just the technology. You will be helped by the JADS support team, but you still have to do it yourself. The physical hackathon weekend and the evenings with the energy hackathons were extremely educational. Together you set to work with complex data issues to find out how you could solve them. The fact that we had access to a technical student for specific support with programming issues was also special. What I also thought was great was a very nice program manager and top guidance during the entire training."
JADS often talks about the impact you can achieve with Data Science. How do you see that?
"Making an impact with data was really central everywhere. You learn not only to see what data is available and what you can do with it, but there is always a focus on the fact that you are only successful with a data project if you actually achieve something with it. At ING, this meant better advice to customers, less capital that had to be reserved through provisions, and faster decision-making about Corona support measures. Including decision makers in these kinds of processes is crucial. But you will also be taught that aspect by JADS."
What tips do you have for JADS?
"It really is a university and the teachers are experts in their field. However, the schedule of the professors did not always match the order of the lessons. That was sometimes difficult. And when I wrote my final report, I experienced what it is like to write an academic report. It is good that JADS already offers support during the investigation and continues to do so."
What did you think of the entourage, the Marienburg as a campus location and the community that JADS offers?
"The contacts I have gained through my education are very valuable. We still talk regularly through a data network club and share interesting insights with each other. In fact, we try to tackle issues to see if we can solve them. Especially to (continue to) learn from each other. In that sense, it seems like we've continued the JADS hackathons. Through JADS I am further involved in the AI Circle Eindhoven and I receive interesting reports regularly. For example about certain publications by professors. An easy way to keep up to date with the latest developments."
---
More information
Interested? For more information: https://www.jads.nl/education/data-science-professionals/.