Interview with Soda, a social startup saga
Posted on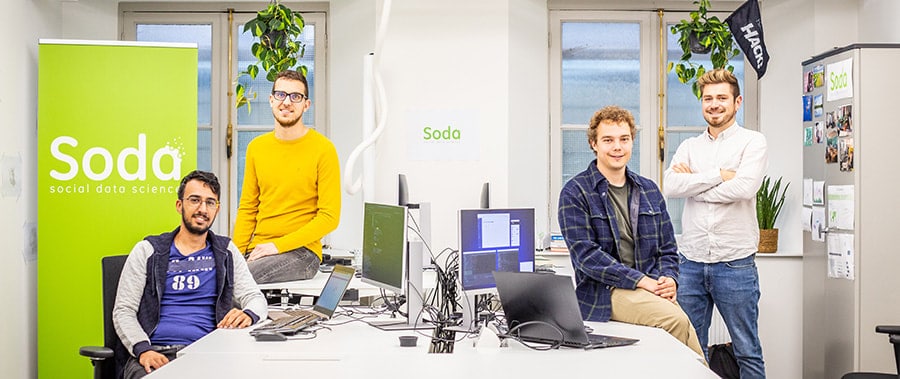 "Where you end up is the sum of all the people you talk to"
This summer, 14 students graduated from the master Data Science & Entrepreneurship. Some of the graduates find jobs, others start their own business. We talked to two of those students; Joery de Vos and Colin van Lieshout.
Tell us a little about yourself
We are Joery and Colin. After completing the master Data Science & Entrepreneurship in 2019, we founded Soda, a startup in social data science. We met in the JADS Business Club, a group of students who enjoyed brainstorming about entrepreneurship and business opportunities for data scientists. The group fell apart, but Joery and I discovered we had something in common: our drive to solve society's challenges using data science. Wondering if there was a need for a service like this, we asked around in our network. We quickly connected to the Aidsfonds, who became our first customer.
What exactly does Soda do?
​
Data science is a new tool that can help tackle social problems. But organizations with a social mission often don't have the right skills and expertise to apply data science. Soda can help them collect, analyze and visualize the data they have, so they can realize their goals more efficiently.
Can you give an example?
Recently we worked together with PharmAccess; an organization that works on improving health care in sub-Saharan Africa. In Kenya, 350 out of every 10.000 pregnant women do not survive pregnancy. Because both clinics and pregnant woman register data about clinic visits and treatments in an online environment, PharmAccess had a wealth of data available to help give these women access to better care. We analyzed and visualized their data and found many interesting patterns, for example in which complications occur during pregnancies and when. This gives doctors insights into which medicine should be in stock, what complications they should be looking out for, and what specialist they should have available. This helps PharmAccess optimize the allocation of funding and present results to their stakeholders. In the words of the customer: "I could continue looking at this visualization for two hours, and I would still be learning new things."
What are your main sources of inspiration?
​
We are enormously inspired by the Effective Altruism community. Effective Altruism is a research field which uses high-quality evidence and careful reasoning to work out how to help others as much as possible. It is also a community of people who try to find the most promising solutions to the world's most pressing problems. It's close to our own personal mission: make the biggest impact with the least means possible.
What is your ambition with Soda?
We would really like to be the top partner for organizations in the social sector and at the same time a great employer for young data scientists. The social sector is not usually an attractive place to work for data scientists, because there is not a lot of expertise and there are no seniors they can look up to. We want to offer that great place to work for young people who like to contribute to society.
What is your advice for young people who want to begin a start up?
​
Talk about your ideas to as many people as you can, both students and companies. Anyone who does anything related to your passion, can be a great conversation partner. Don't be afraid to be rejected, most people really enjoy talking to young ambitious people. Be open and enthusiastic, ask them about their personal mission. We firmly believe that where you end up is the sum of all your sources of inspiration and all the people you talk to.
For more information, go to the Soda website