Alumnus Interview: Creating Impact with Data Science through Professional Education
Posted on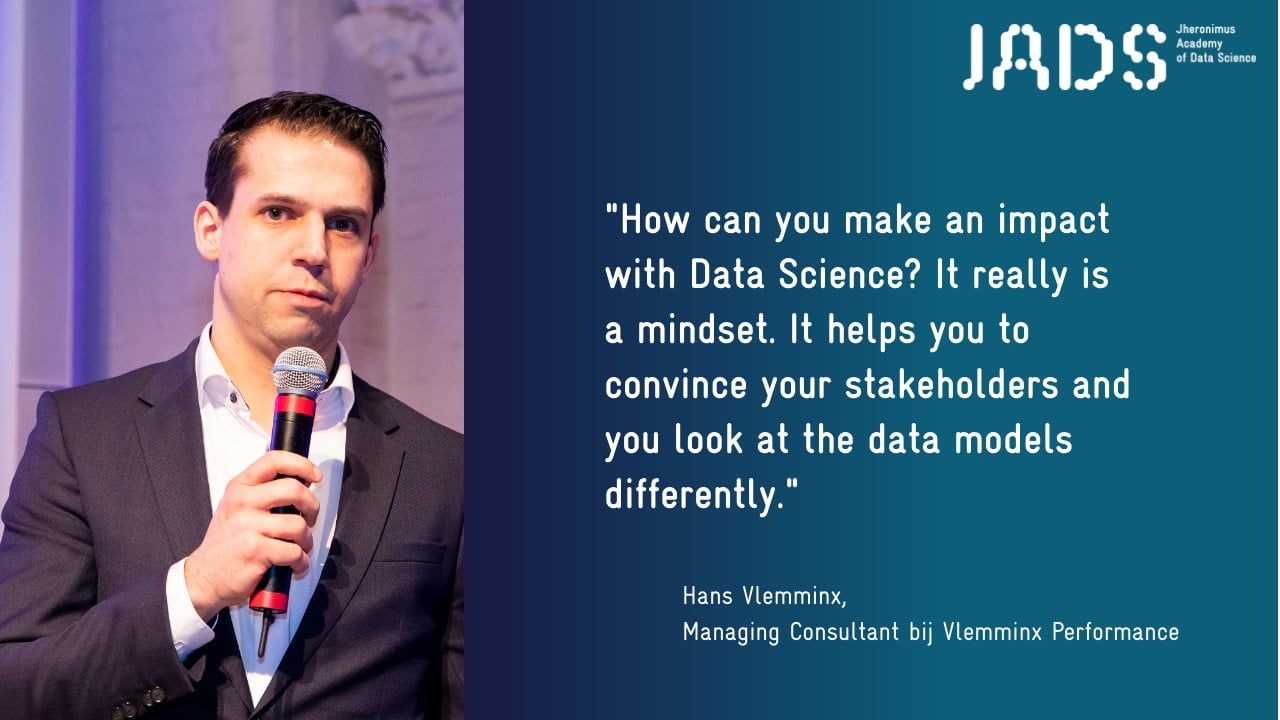 Hans Vlemminx is the founder of Vlemminx performance. A consultancy company for service providers. He is also one of the Alumni of one of our Data Science for Professionals programs. We spoke to him about his experience and what the program did for him.
What does your company do?
"Vlemminx Performance is my own consultancy firm in process optimization for service providers. I help clients such as Schiphol, the Dutch Railways or large healthcare institutions to optimize their service processes. E.g. ground handling at Schiphol, cleaning services for the Dutch Railways, patient flows in hospitals or personnel planning issues at all kinds of other companies."
Why did you choose JADS?
"As an entrepreneur, I think it is important to continue to develop myself. It was clear that it would be in the Data Science field. There are many opportunities in my field. Many process optimizations are data-driven, and you can make all kinds of predictions using models. I had heard of JADS through an acquaintance in my network."
What has the training at JADS brought you?
"The program at JADS was very versatile. In addition to the knowledge to create complex data models, there were also very practical matters to get things done with machine learning in a simpler and faster way. In theory it was very broad. In addition to the technical subjects, there were also subjects such as legal and ethics. Subjects that you might not think of at first, but which are very important in practice."
What added value did the group project have for you?
"Learning theory is one thing, but applying it is quite another. I therefore found working with a group on a data project very useful. You only see where the challenges lie when you really put the material into practice. And a data project is always a multi-disciplinary project. Because we had different profiles in our team, you could also gain experience with this. Two Applied Mathematics students helped us with the real technology. If we ran into something and the JADS team was also ready to help us. The personal attention was very pleasant. This group project was really the added value of JADS for me."
What did your individual final project deliver? And especially the impact for your company?
"My individual project was about a case at the NS. All domestic trains must be cleaned at the end of service. The NS wondered whether optimizations were possible in this respect. We then built a prediction model about the departure of the trains. Where is which train under which circumstances at the end of service? We examined which factors influence this fact. For example, it concerned the number of trains on the track, the timetable of the NS, how much staff was available, etc. The model was then very good at predicting the amount and location of the required cleaning services. This was very useful in personnel planning. And we were able to continuously adjust. The result was that the number of situations with insufficient cleaning staff was able to be reduced by 25%."
JADS often talks about the impact you can achieve with Data Science. How do you see that?
"This was emphasized throughout the program: how can you make an impact with Data Science? That approach really appeals to me. It really is a mindset. It also helps you convince your stakeholders. For example, I see in my work that I often have generic models that can make predictions in service provision. Whether it concerns passengers, patients or goods flows. The models help you to make the right decisions when it comes to (personnel) schedules, routings, financial business cases or process optimisations. There is certainly a lot of saving potential in personnel planning. In services, 60% of the costs often come from personnel. The moment you deal with this more efficiently, you immediately create profit. And as a by-catch often also better quality. I have developed models that show the relationship between workload and quality. By properly managing your personnel planning, you have fewer errors in the operation. This is how you create real impact."
What tips do you have for JADS?
"I certainly learned how to make good data models, and also how to transfer such a model to your stakeholders, but I might have had a little more guidance on how to leave the model 'working' with the customer. I've heard that modules for this have been added to the program, so I can certainly applaud that."
What did you think of the entourage, the Marienburg as a campus location and the community that JADS offers?
"I thought it was very special that you get lessons at a location that is completely dedicated to Data Science. That is different from when all kinds of different courses are given. It really is pure passion and focus on Data Science. The community is also very useful, although I haven't used it much yet. If you have a question in the field of Data Science, someone from JADS can connect you with an expert in that field or someone from the network. Both in terms of expertise and capacity. Very handy. This way you always stay informed of the latest developments."