How chance meetings, a great math teacher and a skiing accident put Pieter Overdevest on the path to Data Science.
Posted on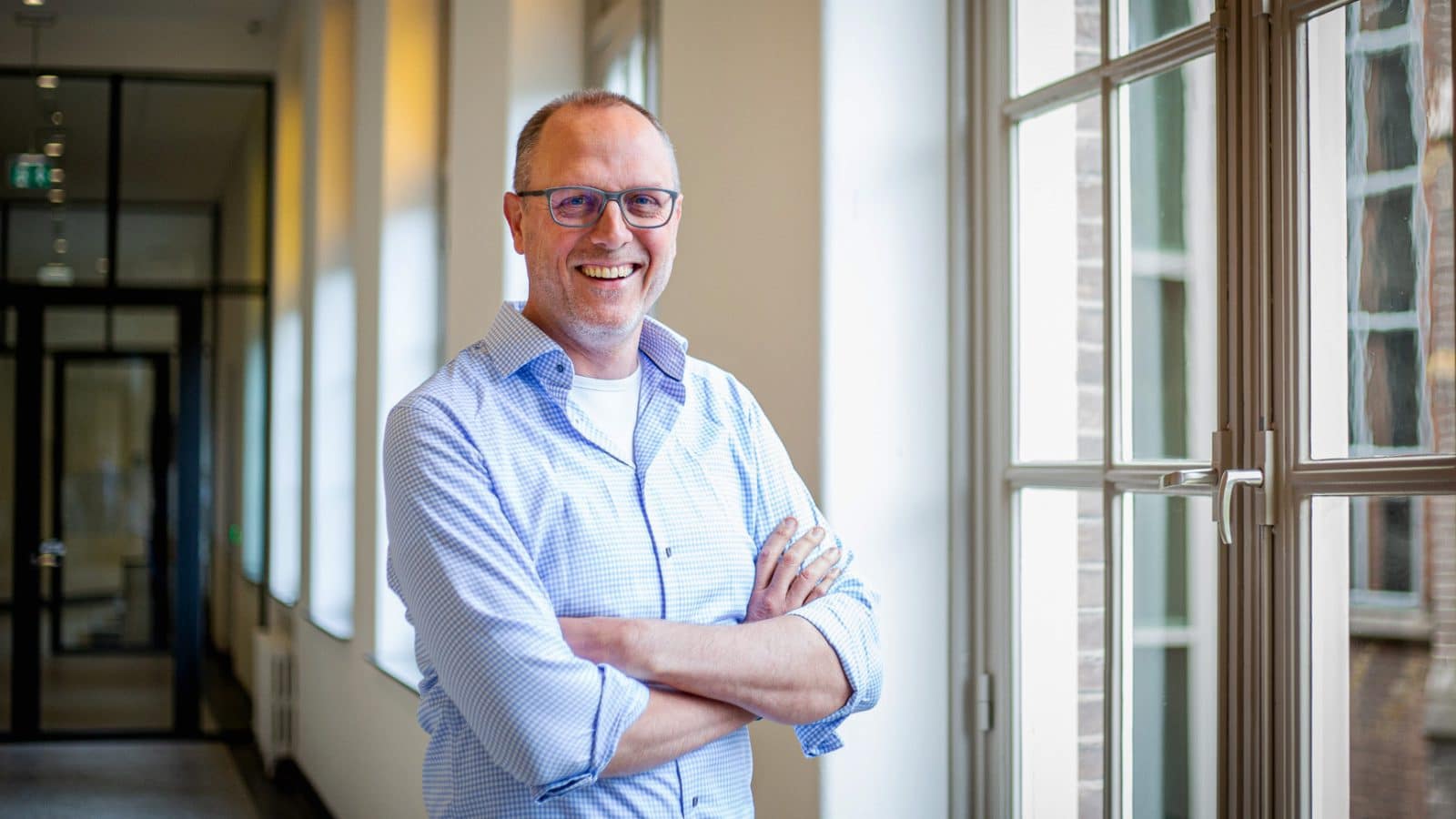 We talked to PDEng alumnus Pieter Overdevest about his journey into Data Science. Read how chance meetings, a great math teacher and a skiing accident helped him in the right direction.
What is your background?
"I studied bioprocess engineering in Wageningen. This involved managing the process of the production of molecules by bacteria. Simply put, you create a big pan of soup; a combination of fluid and bacteria where all kinds of biological processes are taking place. The molecules they produce are then separated from the rest and used as a base for medicine, or food."
"In 1999 I started working at Unilever at the R&D department, where I was involved in researching detergents. Along the way, I started working with data scientists and became really fascinated with what they were doing. But I never thought this could be a career for me."
How did your interest in math and data science begin?
"When I was young, I had a math teacher who sparked my interest in math. The way he taught math was very inspiring and he helped me improve my grade from a 5 to a 9. Sometimes you meet people who put you on the right path. He was definitely one of those people."
"Although math and data were not really a part of my job at Unilever, I always looked for ways to integrate them into my work. For example, I developed a sophisticated tracking mechanism to manage the budget of our department. This way we always knew exactly how much we had left to spend. I really enjoyed doing that."
What led you to the decision to do the PDeng program?
"In 2016, I was involved in a skiing accident and wasn't able to work for a few months. When I returned at Unilever, I found myself at the coffee machine wondering: Is this how I'm going to spend the second half of my career? I felt if I had any ambitions, now was the time to realize them."
"One if my ambitions was to go back to school and study data science full time. Fortunately, my manager fully supported that decision. So I started researching data science studies. As part of my research I visited an event at JADS where I struck up a conversation with Arjan van den Born, the Scientific Director of JADS. At that time, I was considering the master Data Science and Entrepreneurship. But Arjan thought the PDeng program was a much better fit for me. This opened a new door; I could combine my work at Unilever with the PDeng program. Unilever would benefit from my new knowledge and skills and JADS would get access to new datasets and assignments. A real win-win."
"I believe this was another one of those chance meetings with people who put you on the right path. The meeting even led to a further collaboration between JADS and Unilever."
How has the decision to go back to school changed your career and life?
Unilever agreed to reduce my contract from 5 to 2 days a week and I followed the PDeng program for the remaining 3 days. I was surprised to find that during those 2 days, I was much more productive than I had ever been. I could apply my new knowledge and skills immediately, which was very satisfying.
In 2018, a restructuring at Unilever was announced. I immediately saw this as an opportunity; I could use the benefits package to start my own business. Together with a coach I explored the possibilities and I decided to go for it! In October, I will finish the PDeng project and start my first assignment as a data scientist. Through my network, I found HR Groep, a manufacturer of road signs. At my first meeting, I presented them with a demo I created using a dataset they had sent me. To my surprise, I learned that they had already spent a lot of money and time developing a similar system. When they learned I created it in just a few days, they immediately hired me.
Which lessons did you learn, do you have any life advice for young people?
"My advice would be to look back in your life and find the things that you were really passionate about from a young age. Most of the time, these are the things you are really good at too. To me it's also very important to always keep learning. The job you were trained for, will probably not be the job you do when you retire. The world is changing and you have to keep up. You have to keep evolving and developing.'
"I also firmly believe that it's not about the destination but about the journey. Of course it's great to set goals, but the road toward your goals should be fun and satisfying as well. And sometimes you have to change course along the way, like I did. And be open to people who guide you."
"Actually, I reached out to my old math teacher to let him know how he influenced my life and career. I had wanted to do this for a long time but one day I finally picked up the phone. "This is the best gift I received today", he exclaimed. By sheer coincidence, I had phoned him on his birthday!"
More information
To learn more about the PDEng in Data Science, visit the PDEng in Data Science page.
To learn more about business opportunities, for example to deliver a project for PDEng trainees, visit the PDEng for business page.