JADS partners with ASML to leverage the power of data science
Posted on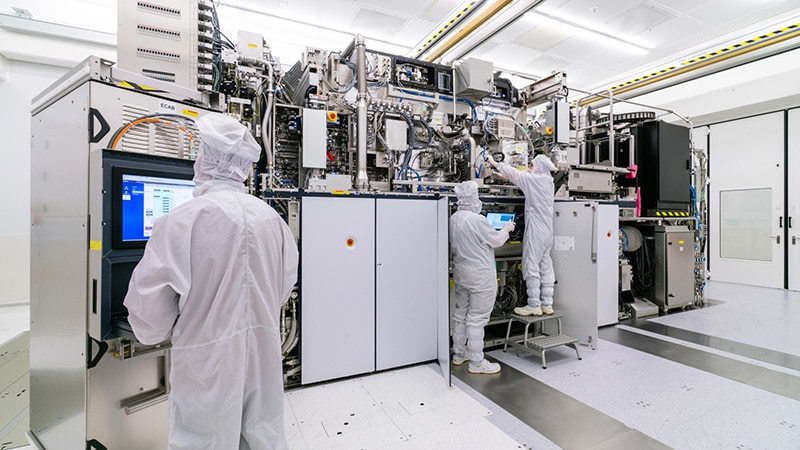 On 4 June, 2021, Jheronimus Academy of Data Science (JADS) and ASML, one of the world's leading manufacturers of chip-making equipment, signed an agreement to collaborate in the field of data science. The partnership brings together academic knowledge, world-class research, international talent and challenging industrial applications. The two partners will initially focus on thesis assignments from JADS students at ASML and a case study within the Data Entrepreneurship in Action program (DEIA).
Data science is becoming increasingly important for the semiconductor industry as a whole and for ASML's technology in particular. ASML's Big Data Analytics Innovation Lab, which collects and analyzes large volumes of corporate and machine data, shaped the partnership with JADS. Team leader Diederick Edel: "Collaboration is at the core of ASML's culture and we're stoked to partner with a top notch academic institution such as JADS. It gives us access to the latest academic knowledge and fresh perspectives from young talent, while also helping us develop the skills of our employees through professional education programs."
Liesbeth Leijssen, Director Impact at JADS: "JADS and ASML are a perfect match. ASML is one of the world's leading high-tech companies and a key player in the Brainport Eindhoven region. JADS, with a solid background in two universities, is a source of academic data science knowledge and international talent. With the domain knowledge and data sets that ASML brings to the table, the potential for interesting assignments for our students is enormous."
The collaboration will kick off modestly with a JADS student who will start their thesis assignment at ASML in September. But there are already plenty of ideas for further collaboration, such as a tailored professional education programs, participating in career events and supporting startups. Liesbeth Leijssen: "With our shared vision about data science as a starting point, we are sure that this will be a long-lasting partnership that delivers value to both parties."
About JADS
The Jheronimus Academy of Data Science (JADS) is a unique cooperation between the Province of North Brabant, the Municipality of 's-Hertogenbosch, Tilburg University and Eindhoven University of Technology. At JADS, we believe that data science can provide answers to society's complex issues. We provide innovative educational programs, data science research, and support for business and society. With a team of lecturers, students, scientists and entrepreneurs, we work on creating impact with data science. We do this by connecting people, sectors and industries: in the past 5 years we have been working with 300+ organizations on data-related projects. Our main drivers? Doing cool stuff that matters with data. Our location at the former monastery Mariënburg in Den Bosch houses a vibrant campus fully dedicated to data science.
About ASML
ASML is one of the world's leading manufacturers of chip-making equipment. Our vision is a world in which semiconductor technology is everywhere and helps to tackle society's toughest challenges. We contribute to this goal by creating products and services that let chipmakers define the patterns that integrated circuits are made of. We continuously raise the capabilities of our products, enabling our customers to increase the value and reduce the cost of chips. By helping to make chips cheaper and more powerful, we help to make semiconductor technology more attractive for a larger range of products and services, which in turn enables progress in fields such as healthcare, energy, mobility and entertainment. ASML is a multinational company with offices in more than 60 cities in 16 countries, headquartered in Veldhoven, the Netherlands. We employ more than 28,000 people on payroll and flexible contracts (expressed in full time equivalents). ASML is traded on Euronext Amsterdam and NASDAQ under the symbol ASML.
More information
Read this press release on the ASML Website
For more information, contact communications@jads.nl