Exploring the power of networks at Ladies of Data 2023: A recap of a diverse event!
Posted on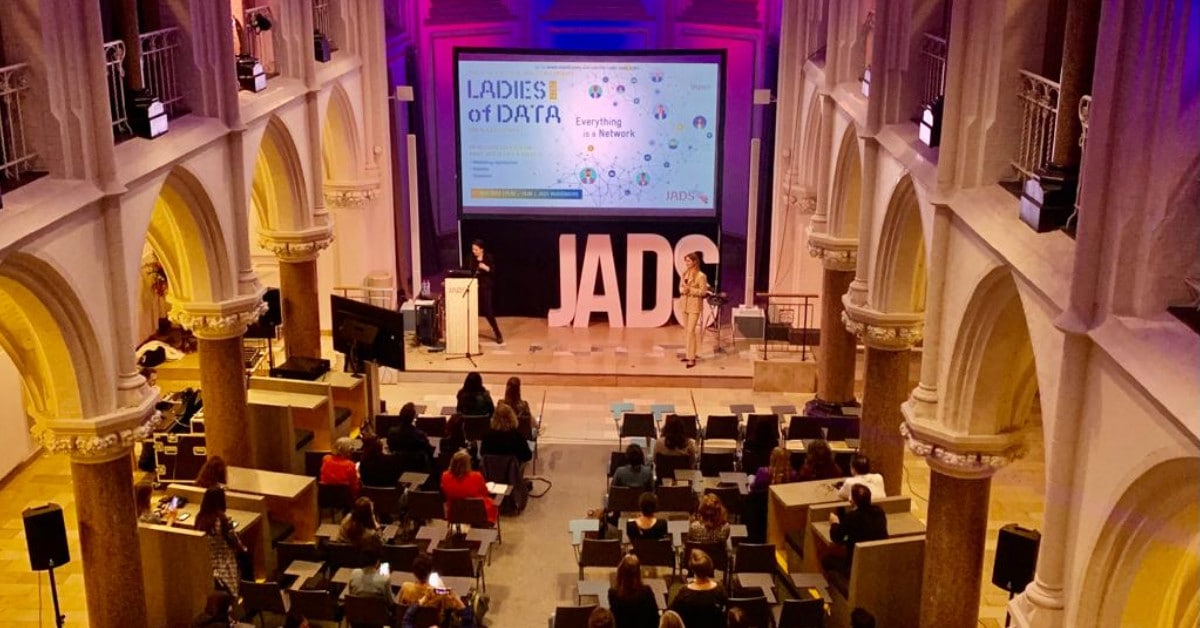 On May 11, an impressive gathering of 100+ data scientists and data science got together at Ladies of Data 2023, an inclusive event dedicated to data science and diversity. This year, the captivating theme was 'Everything is a Network'.
The event kicked off with an engaging introduction by hosts Ksenia Podonytsina from JADS and Pommeline de Bruycker from DPG media, setting the stage for an inspiring day ahead. Attendees were then treated with energizing keynotes by two accomplished leaders in data science, Claudia Zucca, Assistant professor at JADS and Doreen Posthuma, senior Data Scientist at Bol.com. They shared their valuable insights and unique perspectives.
Keynotes: An introduction to network analysis and combating fraud at Bol.com
Claudia gave an introduction on what network analysis entails. Network analysis offers the capability to examine connections among various entities within a network. By employing this approach, one can gain profound insights into the interrelationships between distinct units, such as political parties or competitors within a business network. This field of research focuses on the relationships between units, for instance how the modifications of one unit affects others and the degree to which they are influenced. She talked about her own research about people's beliefs and gave several examples on how network analysis fitted in to that.
In her engaging presentation, Doreen Posthuma shed light on the implementation of network analytics at Bol.com to combat fraud within the online retail industry. Starting with an overview of fraud challenges, Doreen delved into how bol.com harnesses network analytics to detect and deter major fraudsters utilizing multiple accounts. She elaborated on the graph data model employed, shared insights on applying graph queries, and highlighted the algorithms that proved instrumental in combating fraud. By the end of her session, attendees gained a deeper understanding of the power of network analytics in identifying and preventing fraud within the e-commerce landscape.
Discussions and networking at it's best
Following the insightful keynotes, attendees enjoyed discussions on various topics at their respective tables during the drinks session. The exchange of ideas and experiences created a vibrant atmosphere, resulting in valuable lessons learned and connections made.
We want to thank our hosts, speakers partners and participants who contributed to the success of this event. We look forward to welcoming you all again next year, as we continue to celebrate diversity in the fascinating field of data science.