JADS organizes 4th edition of Ladies of Data on May 11: An inclusive event about data science and diversity.
Posted on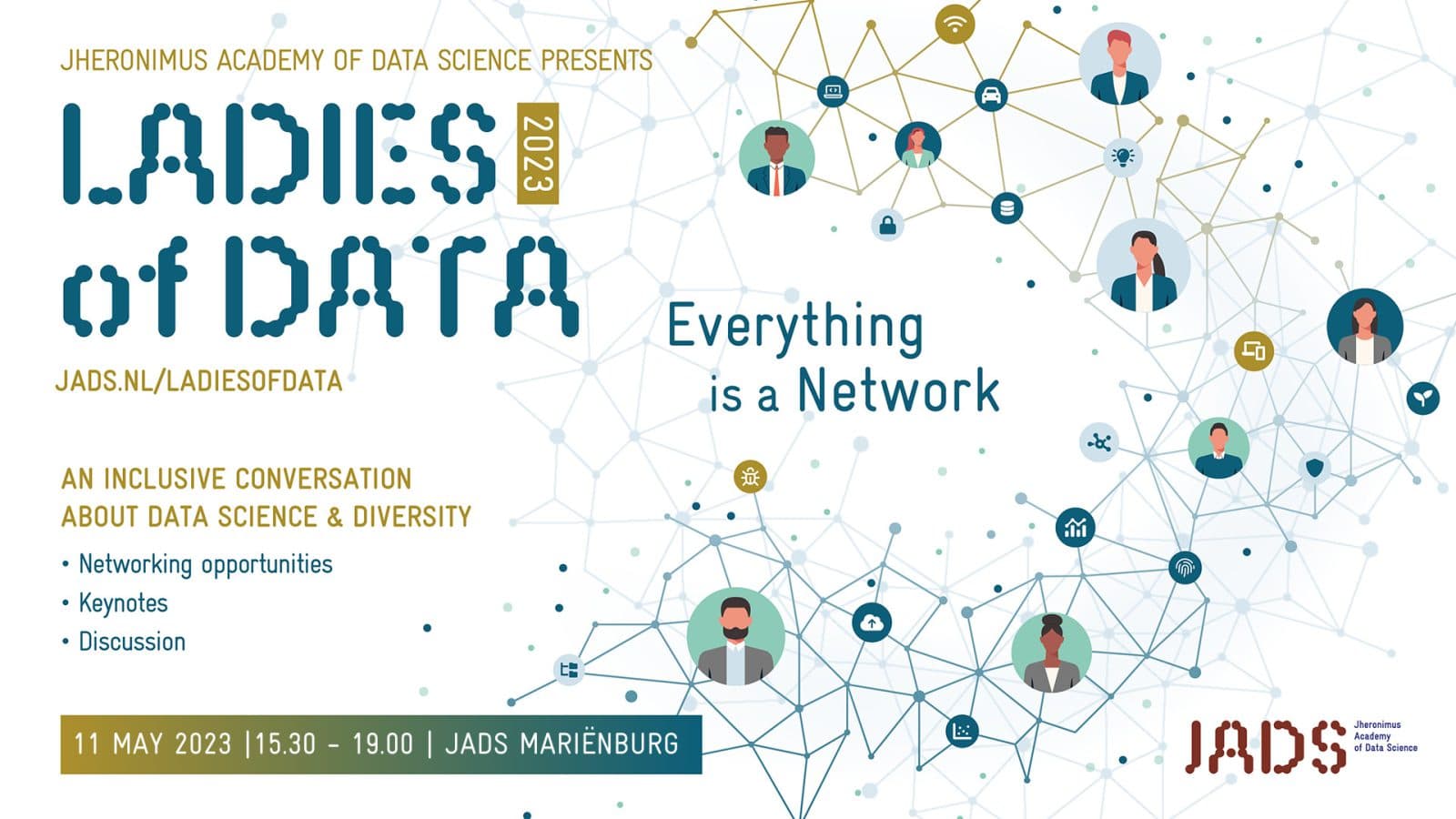 On May 11, the 4th edition of Ladies of Data will take place at the Jheronimus Academy of Data Science in Den Bosch. An event with the aim of highlighting female role models in the world of Data Science and inspiring visitors with stories about diversity in data science. This year's theme is: 'Everything is a Network', where we pay attention to networks, from a data science perspective but also from a personal perspective. It will be a day with interesting speakers and networking opportunities during drinks.
Theme: Everything is a network
When we hear the word network, we quickly think of social networks such as Facebook, Twitter and LinkedIn. They are part of our daily lives and we use them every day to communicate with each other. But there are many more networks that we deal with every day: We use the rail network when we take the train to work. When we withdraw money, we are part of a network that connects us to the bank. Companies compete with each other in a network. etc. Data Scientists are increasingly aware of the importance of networks in understanding the world around us.
Speakers
The speakers at Ladies of Data are inspiring women in the world of data science. Through their keynotes, they provide an insight into the lessons they have learned and their unique view on data science and networking. Doreen Posthuma is Senior Data Scientist at bol.com, the largest e-commerce platform in the Benelux. She says about the theme of 2023: "The world is a vast and complex network and women are a crucial link in this interconnected web. By inspiring each other and sharing knowledge, we can forge stronger connections and build a more united and encouraging world!" During her talk, she discusses how Bol.com implemented network analytics to combat fraud.
Claudia Zucca, Assistant Professor at JADS is the second speaker at Ladies of Data. She indicates that Ladies of data offers an excellent opportunity to discuss advanced data science topics. In a gender-balanced environment where everyone feels welcome. She says: "This year we're going to talk about networks, fascinating mathematical constructs that can be used to explain connections between things. Come by and get inspired for your next career steps."
Ladies of Data will take place on May 11, 2023 from 3:30 PM to 7:00 PM and is free to attend after registration. Registration for the event is possible via the Ladies of Data event page.
For questions about the event, please contact: communications@jads.nl