"Working with data is the perfect combination between math and actually building something"
Posted on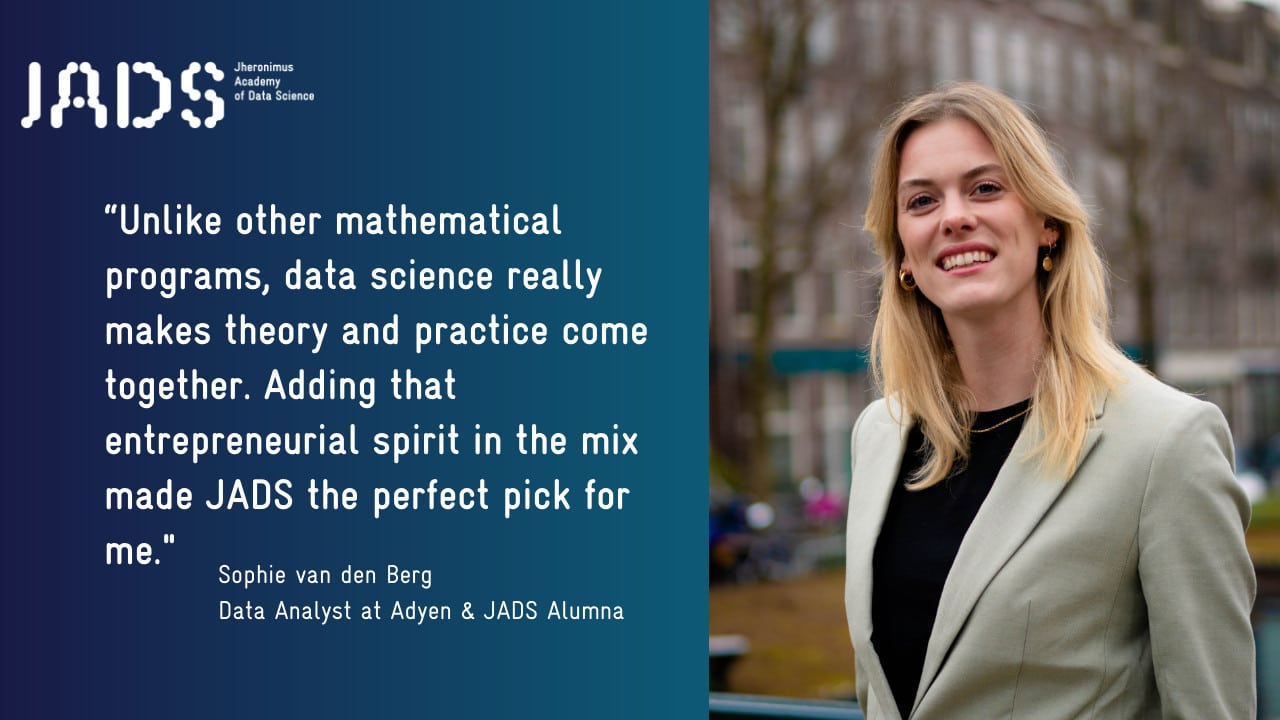 Name: Sophie van den Berg
Work: Data Analyst at Adyen
Education: Master Data Science & Entrepreneurship (& Pre-master program @ JADS)
Home: Amsterdam
Why did you choose to study at JADS?
"After finishing my bachelor studies, I decided to work before starting a master program. I was a grant consultant back then and witnessed a lot of our customers – from tech startups to larger organisations – doing really innovative stuff with data. This really triggered me to do something with data too. There was only one problem: I could not code yet. JADS offers a pre master program that can help you out with that. Within no time I knew enough Python to do my own data analysis and I'm improving my coding skills ever since. For me, working with data is the perfect combination between math and actually building something. Trust me, it's really exciting to work on your own code. Unlike other mathematical programs, data science really makes theory and practice come together. Adding that entrepreneurial spirit in the mix made JADS the perfect pick for me."
What is your best memory of your study at JADS?
"Throughout my time at JADS I really enjoyed that JADS is a relatively small university. This really contributes to the community feeling. Its easy to reach out to professors and you get to know your fellow students well, both in the lecture room and over drinks afterwards. Besides, if you're interested in putting your newly obtained skills directly into practice, you can join JADS MKB Datalab to gain hands-on experience with actual data problems in the industry, on a paid, freelance basis. I did a few projects there myself and guided other students in doing so, something I really enjoyed, boosted my coding skills and gave me a better understanding of the data challenges that SMEs are facing."
What is the most important thing you have learned at JADS?
"Addressing an actual business problem or opportunity is the most important thing in building a data product that makes an impact. No matter how great or challenging your solution is from a technical point of view, it will only really be adopted when the need is big enough. Always keep the end user in mind throughout the development: how will he or she use the output in their business decisions?"
---
More information?
Do you want to know more about our Master Data Science & Entrepreneurship?
Go to our Master page or Download the brochure