From academia to start-up: how Social & Digital Entrepreneurship turns theory into practice
Posted on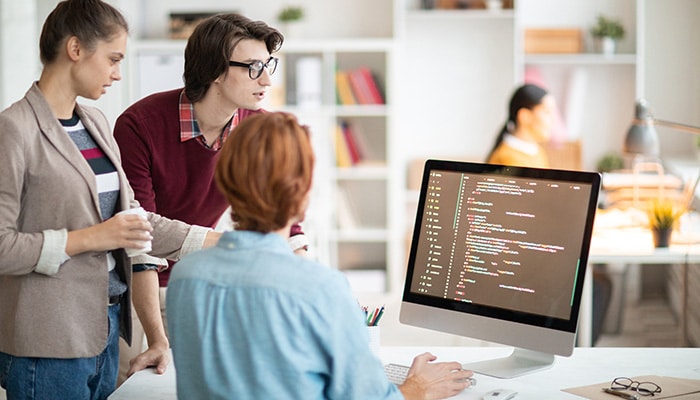 Social & Digital Entrepreneurship (S&DE) is one of JADS's three key knowledge domains, and it's proving particularly attractive to students who want to make the world a better place. Emile Aarts and Jonie Oostveen explain how JADS funnels socially committed young people all the way through from their Data Science & Entrepreneurship studies into start-up companies.
Purpose-driven
Emile Aarts, Professor of Computer Science at JADS, knows what drives members of Generation Z. "I would say that 'Zoomers' – the group born between the mid-1990s and the early 2010s –  are less motivated than earlier generations by money or business success. It's not that these things are totally unimportant, but young people today also want to use their skills and knowledge to improve society as a whole. They're really interested in contributing to the realization of  the UN's 17 Sustainable Development Goals (SDGs), and in achieving  impact on socially valuable aims. Basically, they have a much broader perspective on entrepreneurship than their colleagues from previous generations.
A playground for budding entrepreneurs
Bearing this in mind, Emile is keen to stimulate his DS&E students to devise practical applications for their ideas. "What's important is that S&DE isn't just a purely academic discipline," he comments. "The entrepreneurship component is what makes it so unique. During their master's, a student can enter the JADS Playground to take their ideas further. In fact, I hope that 9 out of 10 students will do so, because the Playground teaches them how to use their knowledge to launch or join a start-up.  This makes S&DE not only more interesting to each student, but also – very quickly – extremely worthwhile to the world around them."
Turning play into work
The Playground provides a supportive and nurturing environment in which this all happens. The start-up incubator within JADS, it has been expanded by Playground Manager Jonie Oostveen. "When I first began creating and launching start-ups 30 years ago, the emphasis was mainly on B2C," he explains. "The big change that has occurred in recent years is that more and more start-ups now focus on sustainable solutions. We offer start-ups a great deal of freedom to follow a program that suits their own needs, while helping them every step of the way. We also work together with various companies and organizations in order to ensure we keep in touch with what's happening in business and society. The aim is to make progress in a very real sense, by turning bright ideas into practical applications."
Keeping the flow going
The flow of students through the JADS Playground into the world of start-ups continues to gather pace at both ends. At the start of the whole process, Emile is examining ways of creating greater awareness among data science students of the opportunities that social entrepreneurship offers. He's also looking at how to integrate it even more into the university's curriculum. "I want to trigger my students to consider DS&E by guiding their ideas and showing them examples of the organizational structures that are possible. For instance, take the Zero Hunger Lab, which aims to play an important, long-lasting role in the Red Cross. Another thing I do is to make them aware of the funding structure of socially valuable programs: anything from the Bill & Melinda Gates Foundation to smaller but equally idealistic initiatives in the Netherlands. It's good for young people to know that it's perfectly possible to combine venture capitalism with social goals. And that there are other exit scenarios than being bought out by Google."
Working for a better world
At the other end of the SD&E funnel, Jonie is full of enthusiasm about two of the latest start-ups nurtured in the JADS Playground. "When you look at startup Goal3 (named after SDG 3) you see what data science can mean for healthcare in low-resource settings. By making it possible to recognize problems such as severe infections at an early stage, this team aims to reduce deaths in developing countries. We've also got two students working on an early start-up called Walnut Data, which aims to promote circularity within the construction industry. By connecting image detection to existing databases, they can see what types of materials are already in use within buildings that need to be repaired or demolished. This way, as many materials as possible can be reused."
Wanna play?
Fresh ideas, insights and requests are always welcome at the JADS Playground. If you're interested in taking your data science knowledge further, or would like to work with students or a start-up in any way or form, we'd like to hear from you. Check out the JADS Playground page and let's see what we can begin together.