Lights, camera, action! JADS hosts first Expert Talk at Mariënburg studio
Posted on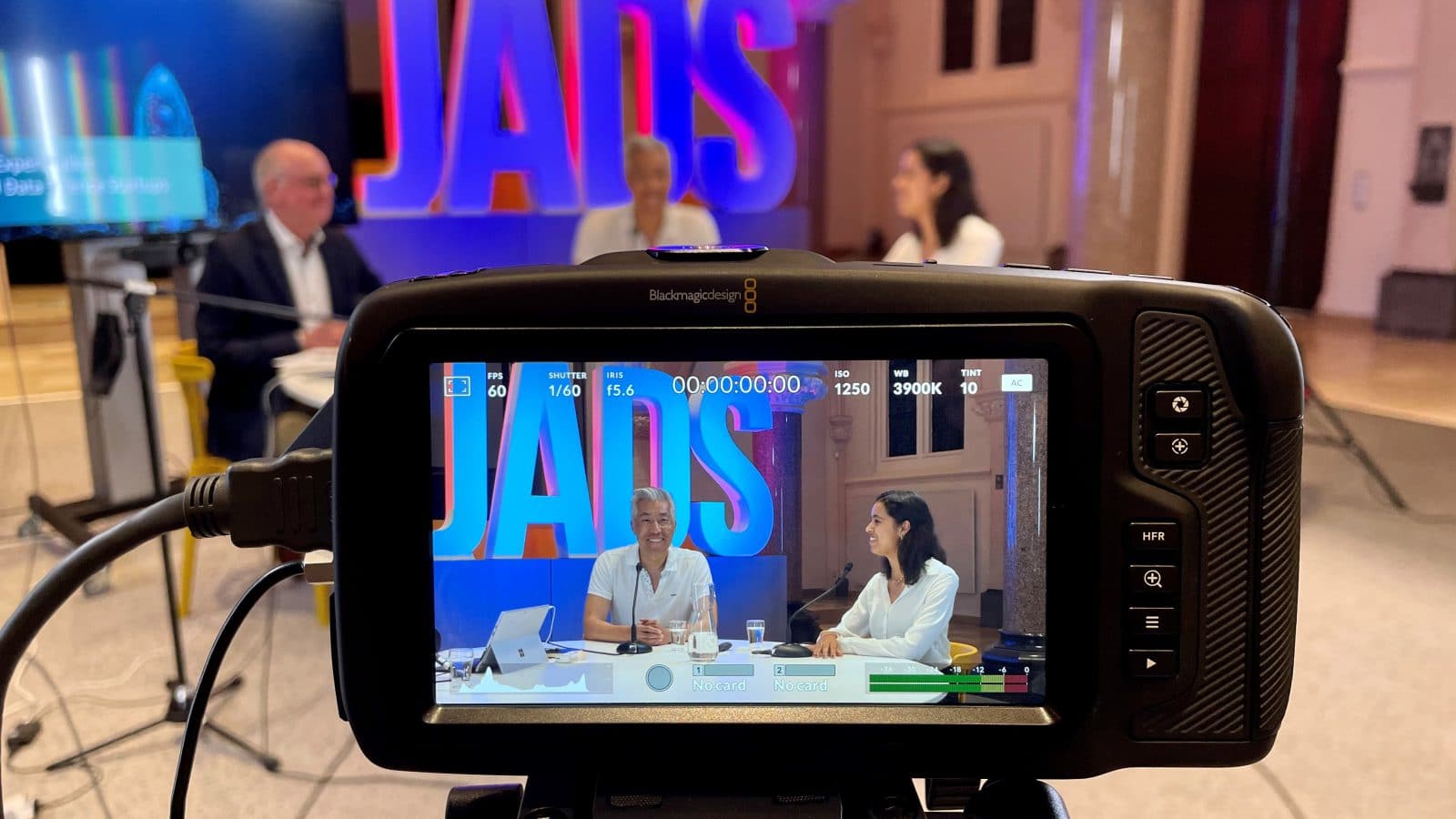 On Thursday June 3, JADS inaugurated their own live video studio at the Mariënburg campus with an Expert Talk on Social Data Startups. 
In early 2020, JADS launched the concept of Expert Talks. Small scale, interactive events where an expert in a certain field gives a presentation about their personal experiences and expertise on a data science related subject. When Covid hit, the events were moved online. For 15 months, Expert Talks were hosted on a variety of subjects, via Zoom from the comfort of our own homes. But finally, on Thursday 3 June, it was possible to broadcast for the first time from our brand new studio at our Mariënburg Campus. Presenter Emile Aarts hosted Jonie Oostveen and Noëlle Cicilia in an Expert Talk about Social Data Startups.
Communicating in a new era
Presenter and Professor of Computer Science Emile Aarts: "Being present in the Mariënburg Chapel again, seeing and feeling the power of the JADS Community, was a rewarding experience for me. The JADS Studio shows that we are ready to communicate in a new digital, visual and interactive era. And it's wonderful to do this together with a fantastic JADS Support team."
Different vibe
"Broadcasting live and being together in the same room creates such a different vibe," says JADS event manager Laura Niemeijer, who was responsible for the realization of the studio. "There really is no substitute for face to face interaction. We've experimented with online events on site and off site, but always with hired equipment and people. Our own JADS Studio creates a lot of new opportunities for online and hybrid events at JADS."
Endless possibilities
"The equipment is mobile, which makes it possible to build up the studio anywhere in the building. Anything is possible, from an intimate studio to a larger setup in the Chapel. And we have our own tech team, with JADS IT staff and Data Science students. We hope that in the near future, we can also have an audience present at Expert Talks and other hybrid events."
More information
Curious about the JADS Studio and the Expert Talks? You can rewatch past Expert Talks here.
Or you can already register for the next Expert Talk about safety in public places