The National Student Survey (NSE) shows positive results for Master Data Science in Business and Entrepreneurship
Posted on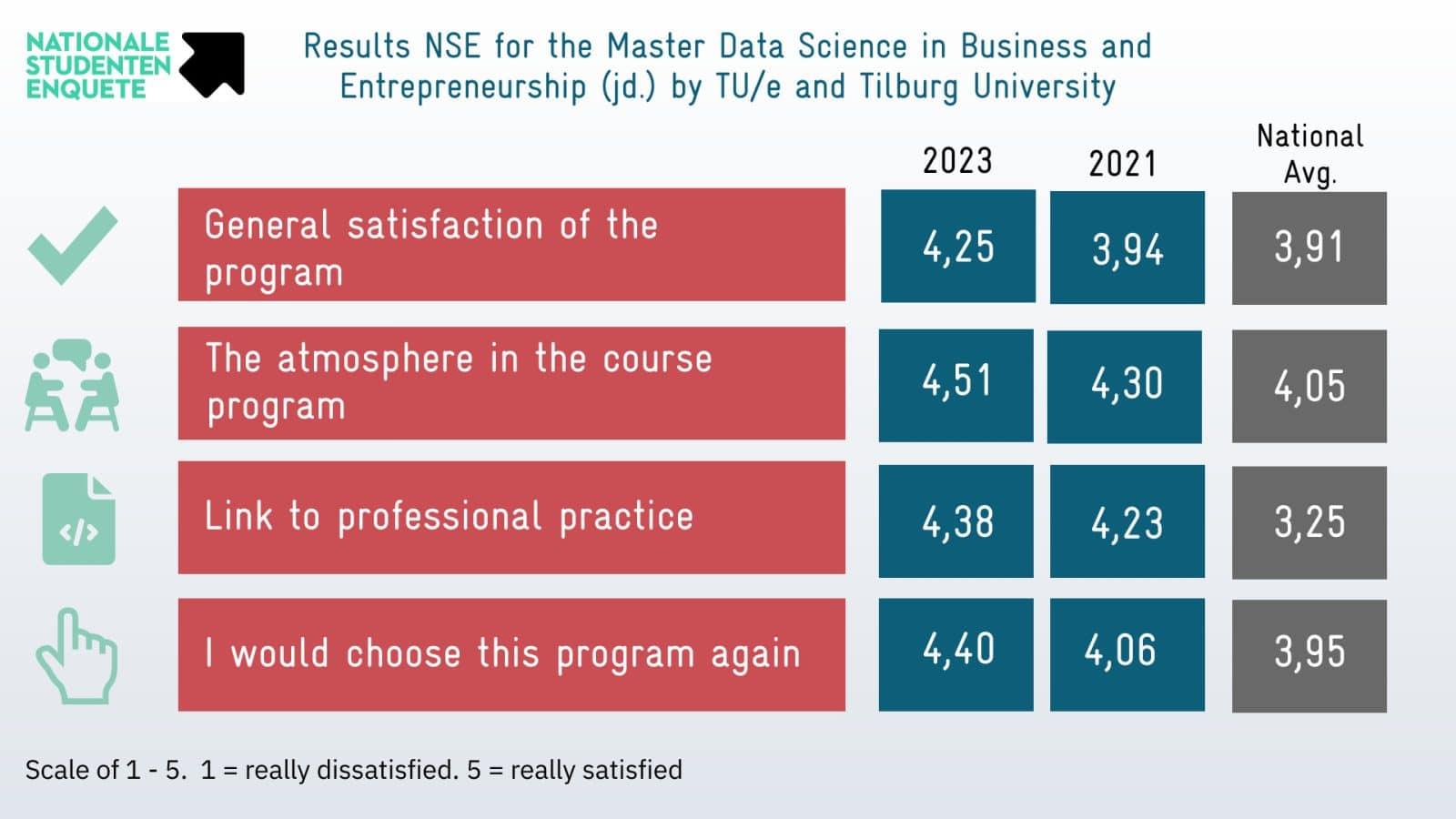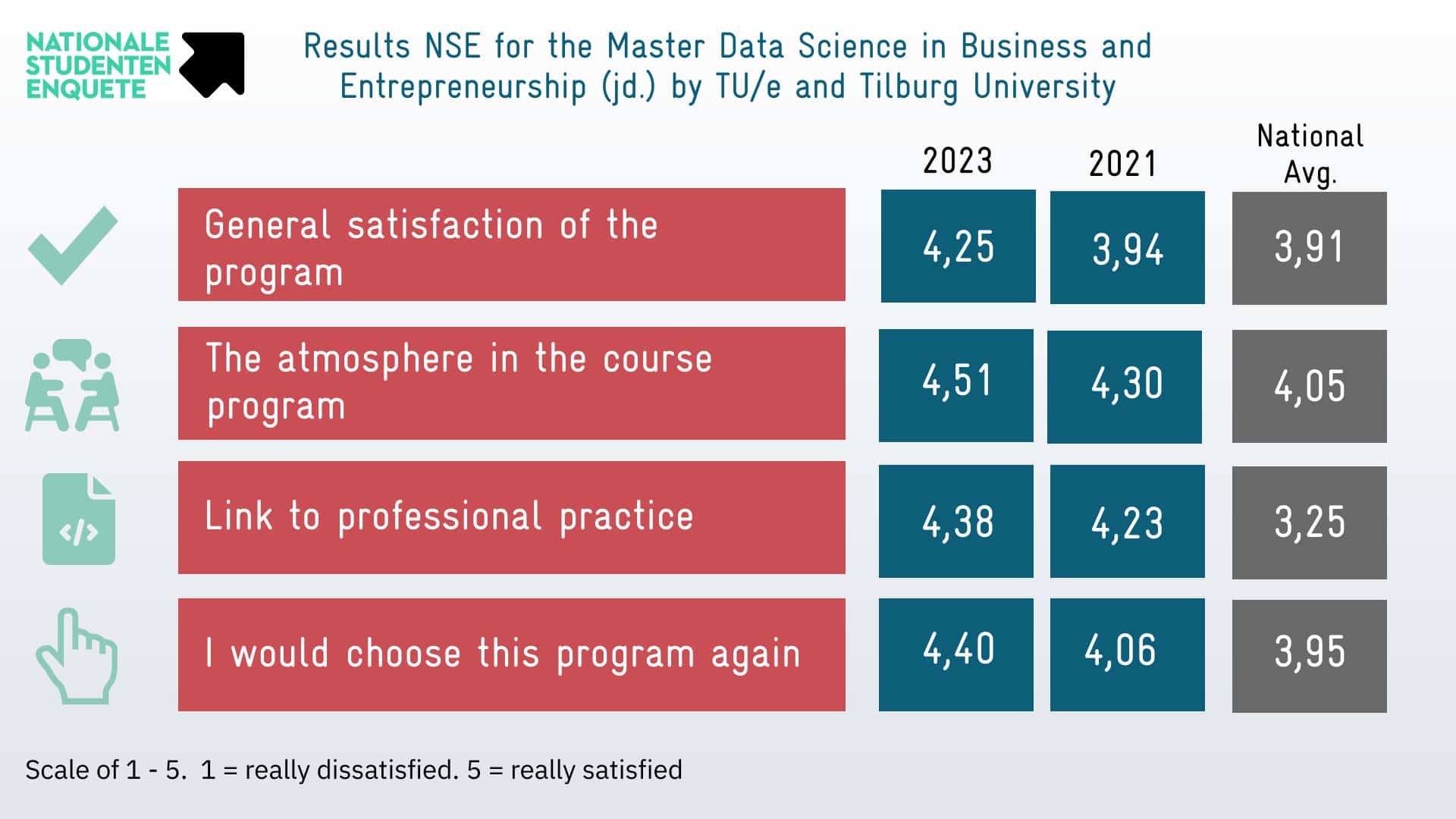 The recent National Student Survey revealed encouraging outcomes for the Master's program in Data Science in Business and Entrepreneurship. Compared to the previous years, the results indicate significant improvements, demonstrating the program's commitment to excellence. Notably, the Master at JADS scored high on overall satisfaction and performed better than the national average in several key areas.
About the National Student Survey (NSE)
The National Student Survey (Nationale Studenten Enquête) is an annual survey conducted in the Netherlands to measure students' satisfaction levels in higher education institutions. It evaluates various aspects of the educational experience, such as teaching quality, practical relevance, and overall contentment.
A great performance
The Master Data Science in Business and Entrepreneurship scored even better than the last couple of years. The teaching content and organization received an impressive rating of 4.11 on a scale ranging from 1 (very dissatisfied) to 5 (very satisfied). This score indicates high student satisfaction and reflects the program's effectiveness in providing quality education.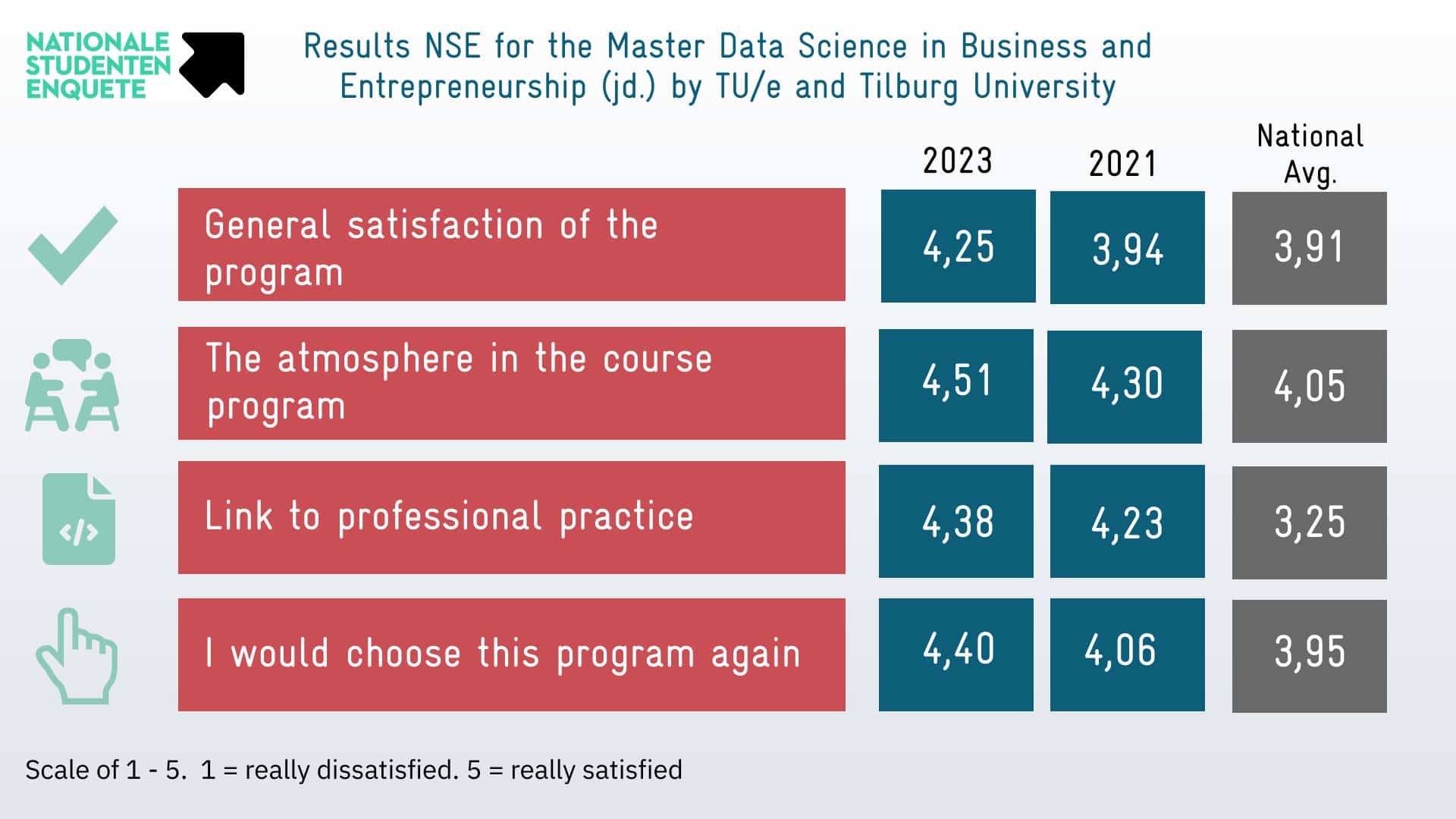 Practical Relevance
Another achievement for the master's program is the practical relevance, scoring 4.41 compared to the national average of 3.33. This indicates that students in the Master's program benefit from practical experiences and opportunities to apply their skills in real-world scenarios. The program's emphasis on connecting academia with industry is highly appreciated.
Associate Professor Ksenia Podoynitsyna says: "I am proud of the results we have achieved. Our overall scores are excellent, particularly in terms of practical relevance. This can be attributed to the fact that 72 credits out of the 120 are dedicated to challenge-based learning in our curriculum. Within the curriculum, students have the opportunity to take courses that involve real-life data challenges from companies. More than one year is dedicated to this. The master's program is all about evidence-based courses, but with the incorporation of challenge based learning."
Dedicated and Engaging Teachers
JADS' teaching staff received great ratings, scoring 4.11. This highlights the teachers' dedication and expertise, as they create an engaging and supportive learning environment. The positive perception of the faculty by students is something the people at JADS are really proud of.
High Student Satisfaction
An essential measure of the program's success is the overall satisfaction reported by the students. When asked if they would still choose the Master's program based on their current experience, the majority gave a score of 4.51. This demonstrates students' confidence in the program and their belief that it aligns with their educational goals.
Great educational experience
The results of the National Student Survey for the Master's program in Data Science in Business and Entrepreneurship again show improvement compared to the previous year. The positive feedback from students regarding teaching content, practical relevance, and faculty engagement further strengthens the program. These results underscore JADS' commitment to providing a great educational experience.