Interview with Master Thesis Award Winner Renée: "I woke up in a hostel bed in San Jose, read the email and was beyond happy."
Posted on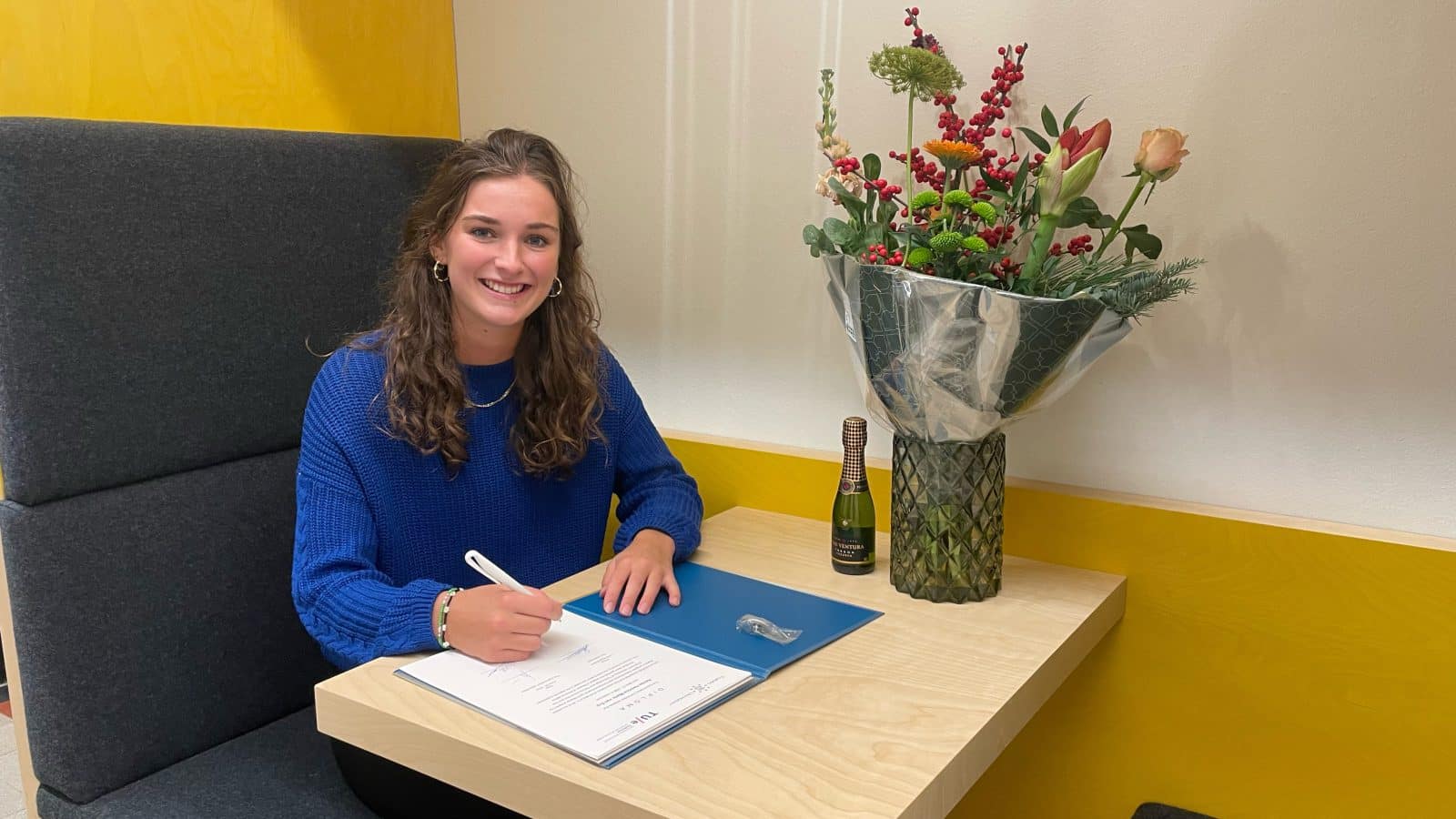 Being a student in our Master's Program Data Science in Business and Entrepreneurship gives you room to develop yourself to be an outstanding Data Scientist. The unique curriculum built with the support of Tilburg University and Eindhoven University of Technology gives plenty of room to students with innovative ambitions. But how do our students and Alumni experience the program? How do they shape it to fit their needs? Answers to these questions and more! In this interview series, we talk to several first- and second-year students and Alumni to give you some more insights about our Master's program. Today, we sat down with Renée van Erp, freshly graduated from the Master DSBE. She is also the winner of the Master Thesis Award 2023 of Tilburg University with her thesis entitled Breast cancer treatment planning: A U-net approach, she concluded her Master's in Data Science and Entrepreneurship.
To start off: You have won the Master Thesis Award! What is that like?
"It was a real surprise to be honest. I did not register as a candidate myself. I received an email that I had been nominated." Renée says: "I liked it, but I couldn't really comprehend what was happening, because I was backpacking through Middle America. After a while I received an email that I had won. I woke up in a hostel bed in San Jose, read the email and I was half screaming, but I also had to be quiet because I was in a dormitory with other people. It was unreal."
Unfortunately she could not attend the ceremony: "Me winning the award came as a total surprise. I'm super happy about this achievement. I'm proud of myself that I was able to handle a project like this from A to Z. From data cleaning, building the model to evaluating it and writing the report."
What was your thesis about?
"When women are diagnosed with breast cancer and they need to be treated with radiation, a dose treatment plan needs to be made to determine the right amount of radiation. This process is time consuming. A lot of doctors and specialists are involved who differ in planning-experience, -skills or -training. My research focused on optimizing the process of creating dose treatment plans for locally advanced left-sided breast cancer patients. I created a model that speeds up the treatment planning process while maintaining quality consistency."
That sounds great. Before you won the award you were a student at JADS. And before that you did a bachelor study. Can you tell us something about yourself and what your background is?
"Yes! Well, I just received my diploma of the Master Data Science in Business and Entrepreneurship. Before the Master I did a bachelor in Psychology and technology at TU/e ​​in Eindhoven. During my bachelor's I liked that there was a good combination between technical and social courses. On the one hand I followed courses like Consumer Behavior, and on the other hand I also learnt more technical skills in courses like programming and building physics. " After her bachelor she decided that the combination between 'soft' and 'hard' courses was something she also looked for in a Master's program. "When I was searching for a Master's program, I really wanted to find this balance as well, but for my Master's I wanted to put more emphasis on in-depth technological courses." The technical challenges she wanted, she found them at JADS.
Why did you choose for the Master DSBE. There are other Master's in Data Science?
"Yes, there are. There is also a Master in Data Science in Eindhoven, but it involves more abstract, fundamental and mathematical courses. The program at JADS fits my interests better, it seemed more oriented to putting data science in practice. At the Master DSBE I saw that you have a good combination of courses from the two mother universities. The management oriented courses from Tilburg University like Management, Strategy and Business Models. And the technical oriented courses like Machine Learning, Algorithms and Mathematics from the TU/e. A great combination of soft and hard."
Next to that she chose JADS because of the practical courses like Data Entrepreneurship in Action. "I enjoyed taking those data science courses because you are working with real-world data for actual clients and companies. In the courses like DEiA you work really hard to create a valuable data-driven solution. I liked that you have a hands-on approach, combined with everything you learn about working for a client. "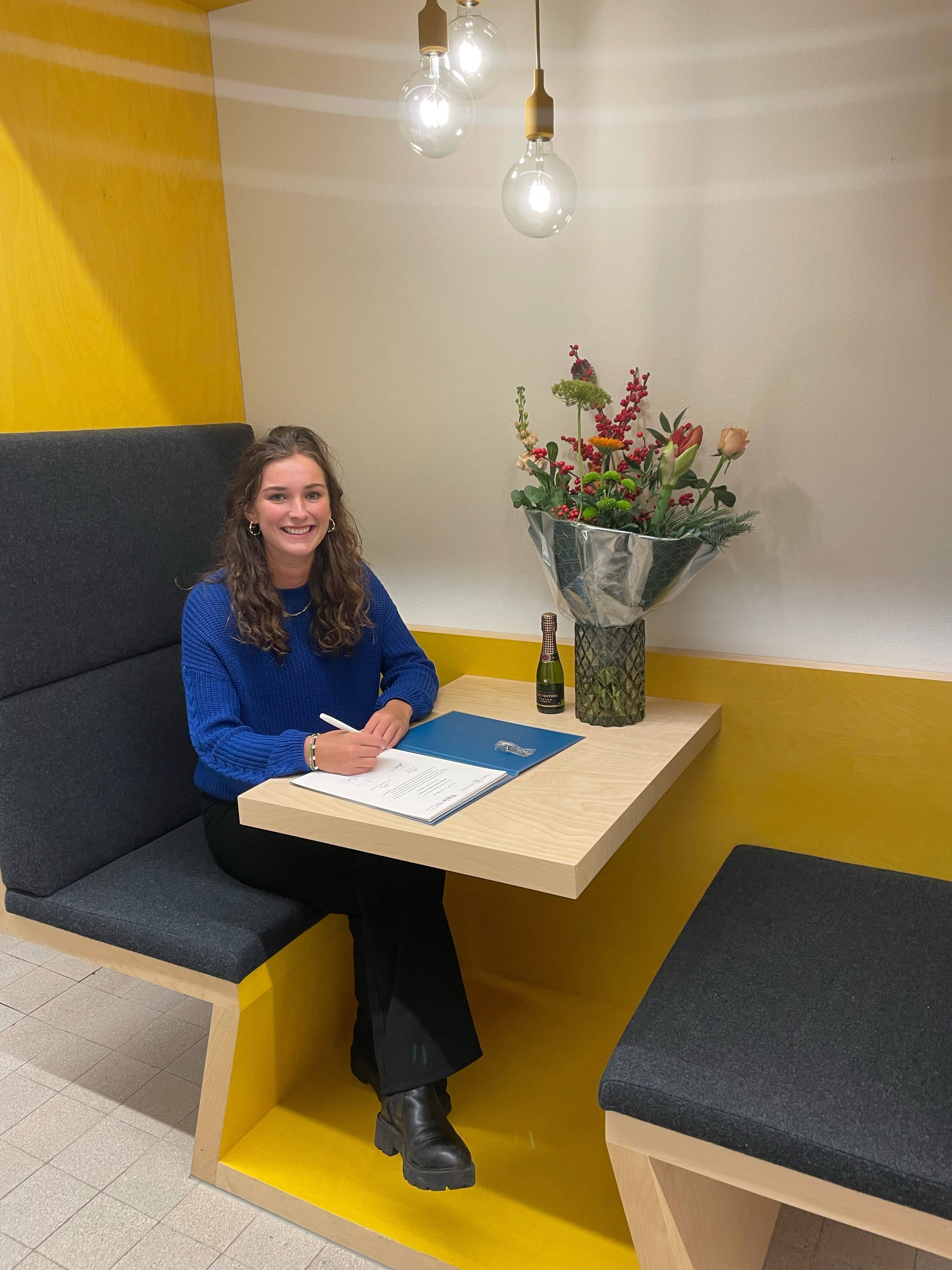 What is in your eyes the unique aspect of JADS?
Renée mentioned the small scale of education and the close knit community at JADS. "I really liked that I knew everyone from my year and that I knew all the teachers and that you can call them by their first names. Next to that I thought it was nice that you could tweak your own program.  In the first year I found out that I really enjoyed the Deep Learning field within data science. Instead of only working with zero's and one's, you use for example images and speech fragments as data input.  A relatively new approach that grasped my attention immediately. That's why I decided to use a Deep learning practice in my thesis."
What are your plans now you have graduated?
"I just started a job as a Data Scientist at a Data Science Consultancy agency in Tilburg." She completed her thesis in the medical world, but has now made the transition to the business world. The reason why she is leaving research behind for now is in her eyes the next step on a growing learning curve. She says: "I'm going into the business world because I can make things that immediately go into production. Research often takes a lot of time and I would rather see quick results when building models. My second reason to work in Tilburg is that I think I can learn a lot in this AI field. It's a technical job in which I can expand my technical skills."
Thank you for this conversation! We wish you all the best in the future.