JADS concludes Lustrum year with Community Event
Posted on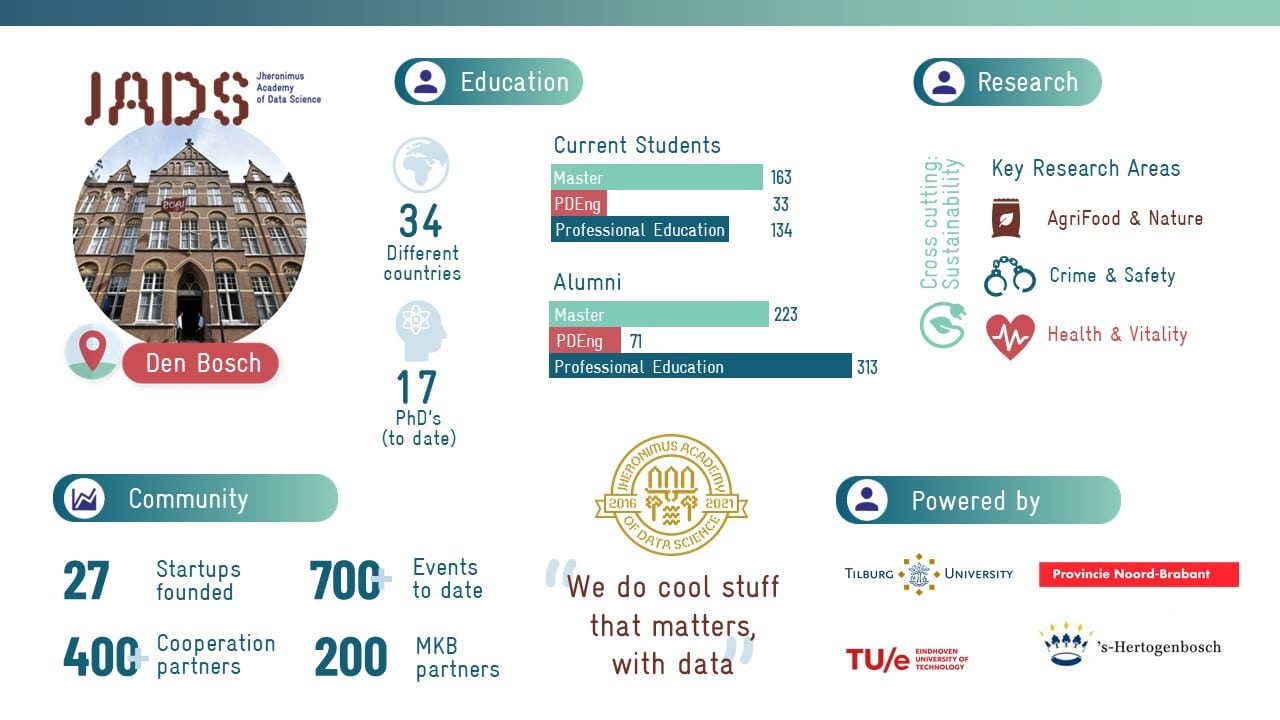 December 2021 marked the 5-year anniversary of Jheronimus Academy of Data Science (JADS), and the kick off of a half year of lustrum activities. To conclude this past celebratory half year, JADS will host an open, vibrant community event on 14 June, 2022.
Unique innovation experiment
In 2016, the founding partners; the municipality Den Bosch, the Province of North Brabant, the Technical University Eindhoven and Tilburg University; launched JADS, a collaboration aimed at the education of talent in the field of data science.
At the time of its launch, JADS was a unique innovation experiment that was strongly rooted in the vision that society has a growing need for academically skilled professionals in the rapidly developing field of data Science.
This vision still holds true. Since its early beginning JADS has been living up to its promise to deliver highly educated professionals and build bridges between technology and business. During its five years of existence JADS has become a well-established and recognized player in this growing field of societal and industrial innovation.
New academic director
In March of this year, JADS welcomed Jos van Hillegersberg as new academic director. "When I first heard about JADS, I was impressed with the mission to make data science accessible for society and for all types of enterprises. I thought it was a unique institute and kept following JADS ever since. With all its different aspects, data science is a really interdisciplinary field. JADS has all the knowledge that is needed to make data science glow, grow and make an impact. There is so much data and it's so hard to find the truth. Moreover, data enables entirely new business models, increasingly focusing on social and sustainable business. What we are doing here at JADS is what we need in the world."
Achievements
Among the achievements of the past 5 years are some impressive numbers: over 220 Master graduates Data Science & Entrepreneurship, 27 startups founded and nurtured in the JADS Playground, over 620 collaboration partners and over 700 events.
> Check out more data about JADS in this infographic (PDF).
Lustrum website
To celebrate the lustrum, a website has been launched, containing the highlights and personal stories from the history of JADS in text, image and video.
Community event
During the lustrum community event on 14 June, aptly named "Bridging worlds, bringing disciplines together", JADS invites the community to look back on 5 years JADS, get acquainted with all that JADS has to offer and raise the glass together. Guests can expect a dynamic event that combines everything that makes JADS a unique data science hub: connection, conversations, presentations and interactivity. Visitors can meet and mingle with JADS students, researchers and collaboration partners at the JADS Fair, find out more about JADS activities in the Q&A sessions and join a live recording of the JADS Podcast.
More information and registration for the event via: https://www.jads.nl/events/a-celebration-of-5-years-jads/
JADS Lustrum page: https://www.jads.nl/lustrum/
About JADS
The Jheronimus Academy of Data Science (JADS), a joint initiative of Tilburg University and Eindhoven University of Technology, is the hotspot in the field of data science and education in the Netherlands, where students, researchers and companies work together to turn data into value. JADS connects the principles of mathematics and computer science to current social issues in the legal, economic and social scientific fields.