Offering solutions to Unilever and Arinze with the Master's course Data-Driven Food Value Chain
Posted on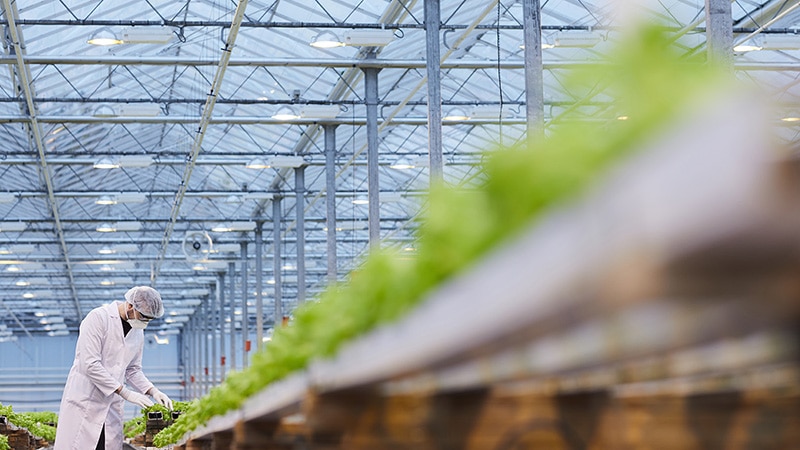 Companies and other organizations use data to gather valuable insights and create business opportunities. That's why there's a growing demand for skilled data scientists who know how to make sense of the large amounts of data produced in organizations and put it to good use – both effectively and safely. During the 2 years in our Master's Program Data Science in Business and Entrepreneurship, students will learn just that. Within this program, students build their future path by (compulsory) choosing from one of the different optional courses. Today we are highlighting the Data-Driven Food Value Chain course (6 ECTS).
The world population and food consumption are growing. A major challenge. In industrialized urban societies, however, access to food is something often taken for granted. This is only possible because of a sophisticated food supply chain that runs from agriculture to food processing industry, to wholesale, to retail, bound together by a vast logistic network. Upon successful completion of the course Data-Driven Food Value chain, the students will be able to identify challenges and opportunities in the agri-food sector.
But: what does this mean for students? And how can this course bring solutions to companies? We talked with two students, the tutor and the two companies (Unilever and Artificial Intelligence Zeeland (Arinze)) that provided data challenges at the recent end presentation of this course.
Why this course?
Rogier Brussee and Sicco Pier van Gosliga, lecturers and researchers at JADS, explain; 'In this course, we truly focus on applying data science, specifically how to add value to the production chain'. Everything passes by in this course and we believe it is a nice illustration of how data and data scientists work in practice. The food production chain is also very interesting from the perspective of data science and AI. Guest speakers explain how they use data science and AI to add value. We go through the entire food production chain from farm to supermarket, providing a coherent picture and highlighting bottlenecks. Innovations are very welcome, because the industry is facing huge challenges for the future. That's why a lot of things are being tried. Robots, drones, machine vision, sensor streams, they are all used.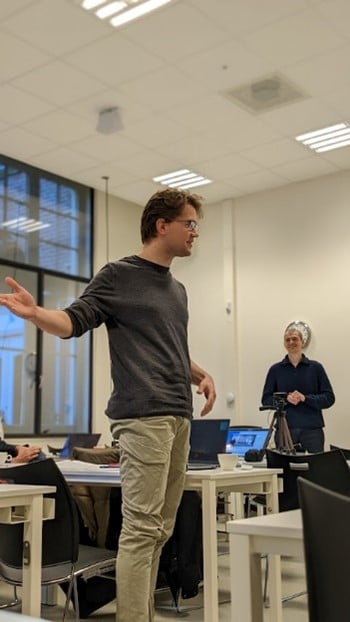 Rene Slabbekoorn (l) and Sicco Pier van Gosliga (r)
---
Why partner up with JADS
JADS provides innovative data science programs at undergraduate, graduate and postgraduate level, conducts cutting edge data science research and offers great business opportunities with a continually growing ecosystem. From startups to SMEs and large corporates, our business partners gain access to talent, high level knowledge and business opportunities.
Partner up with JADS like 300+ other organizations and businesses and shape your data-driven future.
LEARN MORE ABOUT BUSINESS OPPORTUNITIES
---
Student experience – 1
Victor van Sterkenburg is a second year student. He was part of the group that worked on the challenge offered by Unilever. He reflects on his experience: " The guest lectures were very interesting overall, as they ranged across a wide variety of subjects, including crop health monitoring, livestock monitoring sensors, satellite imaging and genetics. Most guest lecturers were also very engaging." why go for a course like this? ' I chose this course, because I'm interested in the opportunities of our data science master in food chain aspects such as food manufacturing or food distribution.'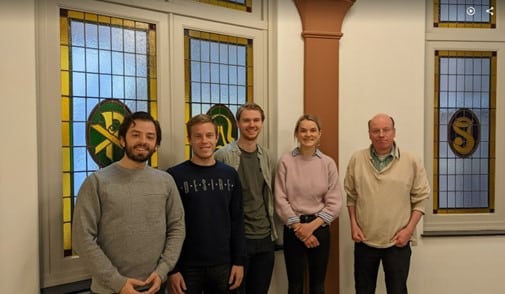 Victor van Sterkenburg (l) and his team, with Arjen Bot (Unilever) on the right
Why is Unilever involved in this course?
'The route to being part of this course is an interesting tale' says Arjen Bot, R&D at Unilever. 'An ex-Unilever colleague started a data science study when he decided on a career change when the Unilever lab moved from Vlaardingen to Wageningen. He did his EngD project with me. That was a good experience, and after that a more extensive collaboration with JADS was established. Being part of DDFVC offers space and time to test ideas. A student may come up with a brilliant idea that I have not thought of myself, and that idea might be suitable for a full-fledged EngD project'.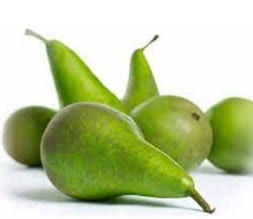 ©: Fooddelta Zeeland
Smart pears, say what?
ARINZE  (ARtificial INtelligence Zeeland) is a startup focusing on the use of computer vision in the agri-food sector, participated in this course with their proof in concept for the 'Slimme peren' (smart pears) project. This concept is part of the acceleration program setup in the Province of Zeeland with a wide consortium. Rene Slabbekoorn, project leader at ARINZE, outlines the ambition in his project. 'The Smart Pears project is a demonstration project for autonomous self-learning sorting and packaging robots for pear sorting. The pear is the most challenging fruit variety to sort and pack because of the many shape variations, curves, different colors on the same pear, the fragility of the fruit and the associated quality requirements. To develop a system that can properly deal with these characteristics, it is necessary to understand all aspects as well as possible. The more we understand, the better we can sort pears. JADS' knowledge and expertise in data-science and artificial intelligence is a welcome contribution to the Smart Pears project.'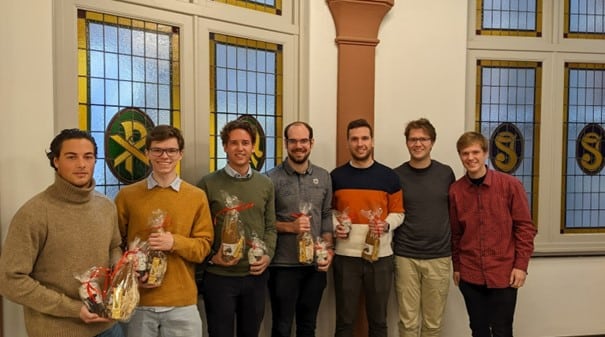 Master student Andrey Rass (2nd from the left) and his team. Accompanied by Rene Slabbekoorn of ARINZE (2nd from the right) and Matthijs van de Velde (r).
Student experience – 2
For the Arinze project, Andrey Rass participated as one of the students with the 'smart pear' project. It really broadened his horizon in terms of learning material. Andrey: 'I worked on a large team assignment to design a system tackling a very real, practical problem in the industry with a clear production use-case and motivation in mind. It focused on a computer vision approach using object segmentation. In order to detect rotten or otherwise substandard pears on conveyor belt photos from a sorting plant '.
Secret guest get's inspired to do a Master's
Rene Slabbekoorn mentions something special about this end presentation day. 'A special guest can be seen in the foreground of the group photo. This is Matthijs van de Velde, a high school student from Tholen, who has a special interest in programming and developing robots. ARINZE recommended him to join the activities of the Smart Pears project. On this day Matthijs was allowed to attend the final presentations by the students of the JADS. Matthijs:  "I was impressed by the presentations and learned a lot from the students and would therefore recommend everyone to visit JADS."  Amazing Matthijs!
Be welcome at JADS, join one of our many interesting (data science) events or plan a meeting with a student– Master Data Science in Business and Entrepreneurship.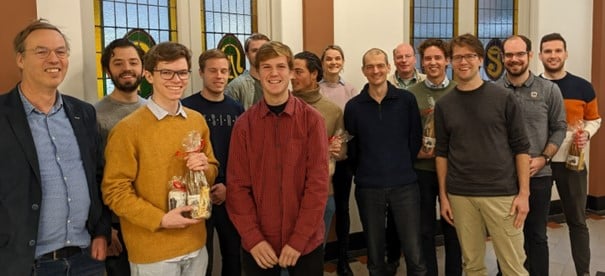 Academic coordinator Rogier Brussee (L) and the students and future student Matthijs, Arjen Bot, Rene Slabbekoorn and course coordinator Sicco Pier van Gosliga.